Happy World Oceans Day!!
World Oceans Day 2012!
Posted: 06/08/2012 12:57 am Updated: 06/08/2012 1:16 pm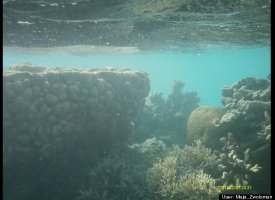 June 8 marks the 20th observance of World Oceans Day, a global event that has been recognized by the United Nations since 2008. Along with celebrating the oceans and the life they sustain in the water and on land, the day is also meant to encourage individuals to take steps to boost preservation efforts.
Oceana released a report this week, outlining how "saving the world's oceans can help to feed the 9 billion people projected to be on earth by 2050," according to the group.
Among other things, the report found that "by stopping overfishing, reducing discards at sea and protecting [the oceans'] most productive areas," the world "can not only recover wild fisheries, we can also protect diverse ocean ecosystems."
Last July, NOAA released its annual overfishing report for 2011. 16 percent of U.S. fish populations are overfished, and the number has been growing in recent years.
Fish in other countries may also be facing an uncertain future. A study by the International Union for Conservation of Nature last year found that "more than 40 fish species in the Mediterranean could vanish in the next few years."
Governments could be contributing to the precarious place of the world's sea life populations. An Oceana report found that multi-billion dollar subsidies from the European Union "promote a European fishing fleet that is up to three times bigger than sustainable limits."
To learn more about the world's oceans and join others in supporting conservation, check out the interactive, socially-connected app TheBlu. World-renowned oceanographer Dr. Sylvia Earle said about the app, "TheBlu is an extraordinary way to enjoy the Oceans and learn about all the individual species that interdependently form our life support system. I am delighted to be part of theBlu and offering my guidance."
Click here to find out about World Oceans Day events and learn how to take action. To celebrate oceans around the world, we're collecting our favorite photos! Submit your own ocean photos to the slideshow below, and scroll down for videos:
WATCH a World Oceans Day video from NRDC:

WATCH One World One Ocean's parody of "Somebody That I Used To Know":

Attribution: Huff Post Green