Manhattan's biggest hotel gets even greener
From: GTG staff, Green Traveler Guides, ENN
Published June 13, 2012 08:33 AM
A new living green roof and a super-energy-efficient heat and power system are the latest eco-upgrades at Hilton New York, the city's largest hotel.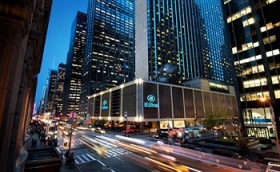 The 16,000-square-foot green roof system is planted with vegetation from an upstate New York farm. The foliage and roots naturally absorb airborne pollutants, which prevents carbon dioxide from being released into the atmosphere. The vegetated rooftop also deflects solar radiation and reduces the energy needed to cool the hotel. All together, these benefits help to reduce the hotel's Urban Heat Island effect—increased temperatures in midtown Manhattan due to dense cityscapes and lack of vegetation.
The environmentally friendly cogeneration (combined heat and power) system—the largest of any New York City hotel— uses clean and efficient natural gas to produce electricity and hot water. The Hilton New York's 1,981 rooms and common areas consume more than 23 million kilowatt hours of electricity per year, and the new system will provide more than half the hotel's electrical power plus 40+ percent of steam used for heating and hot water. It is expected to reduce the Hilton New York's carbon footprint by more than 30 percent. The carbon dioxide reduction into the atmosphere will be more than 10,000 metric tons per year—equal to removing more than 6,000 mid-sized sedans from the roads.
For Earth Week 2012, the hotel was host to sustainability experts and advocates from across the corporate world for the Sustainable Operations Summit. Other green programs at the Hilton New York include the use of UTC Power fuel cell technology, a cleaner method of providing electric power and hot water to the property. In 2009, the Avenue of the Americas Association awarded Hilton New York with the "Green Street" Award in recognition of this fuel cell investment.
Image credit: www.nyc.com