New Study: Smart Roofs Could Transform California Energy and Water Use
From: Editor, NRDC
Published June 15, 2012 09:51 AM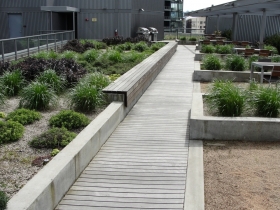 Installing green roofs and cool roofs in southern California could save consumers more than $211 million in energy bills and reduce emissions equivalent to removing 91,000 cars from the road each year, according to a new study from the Natural Resources Defense Council and the Emmett Center on Climate Change and the Environment at UCLA School of Law. Installing green roofs will additionally reduce stormwater runoff that pollutes our beaches.
"Southern California is facing a complex, and mostly worsening, set of sustainability challenges but solutions exist," said Noah Garrison, project attorney for NRDC's water program. "Green roofs and cool roofs are a solution that can be implemented today. Taking simple steps like installing drought resistant plants on a roof surface or painting roofs to reflect the sun's energy can dramatically reduce our dependence on fossil fuels and, for green roofs, reduce the amount of pollution that flows to our rivers and beaches."
According to the report, "Looking Up: How Green Roofs and Cool Roofs Can Reduce Energy Use, Address Climate Change, and Protect Water Resources in Southern California," if green roofs or cool roofs were installed on 50 percent of existing roof surfaces for residential, commercial, and government and public use buildings in southern California, it could save up to 1.6 million megawatt hours of electricity annually, enough energy to power more than 127,000 homes in California and save residents up to $211 million in energy costs each year based on 2012 rates. The energy savings would cut carbon pollution by 465,000 metric tons annually.
Because green roofs absorb and evaporate rainfall, installing green roofs on 50 percent of the existing roof surfaces could reduce stormwater runoff by more than 36 billion gallons each year – enough to fill more than 54,000 Olympic-sized swimming pools – significantly reducing the volume of pollution reaching our local waters.
Article continues at NRDC
Green Roof image via Shutterstock