The Last Mountain: A Second Look at Coal
From: Courtney Hayden, stuff Sierra Club Green Home
Published June 26, ampoule 2012 08:55 AM
The Last Mountain, a film by Bill Haney, starkly portrays the lives of people living around Coal River Mountain in West Virginia. It opens with a black hawk gliding gracefully above the Appalachian forest canopy. Instrumental folk music plays, setting the stage for a peaceful recounting of country life in the American south. Looming in the background of this idyllic scene, out-of-focus, are signs of what is to come: a dirt road winds its way through the mountain with a small black power line snaking alongside it.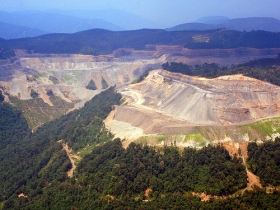 It takes less than 30 seconds for the beautiful scene to shatter with a crash of awareness. The patch of seemingly pristine forest is only a small outcropping of growth alongside a mountain top removal in progress. The wispy clouds are actually pollution billowing out from the burning coal. Surrounding waters run black, neighboring mountains are reduced to rubble, and massive coal sludge impoundments have taken over where wildlife once lived.
In the Coal River Valley, coal means jobs. A family's ability to pay rent, keep the lights on, uphold tradition, and stay rooted all depends on the coal companies. Those individuals still employed by Big Coal are told that "radical environmentalists" are trying to "make the economy an endangered species." Despite the real dangers in fighting back, massive numbers of community members and retired coal workers are beginning to speak out against these untruths.
The reality is that the residents of coal city, USA are being assaulted by polluted air and water, leading to increased flooding and chronic diseases. For those who decide to fight big coal, pressing concerns of family health and survival outweigh loyalty to coal companies. West Virginians are beginning to discover that while rates of coal production are on the rise, rates of employment in coal operations are plummeting. Unearthing the realities of coal, as well as actively fighting mountain top removal, is the backbone of a strong grassroots network working to promote clean energy and save Appalachia.
Article continues at ENN Affiliate, Sierra Club Green Home
Image credit: ILoveMountains.org and SouthWings