Arnold Schwarzenegger's War on Gerrymandering Is Just Beginning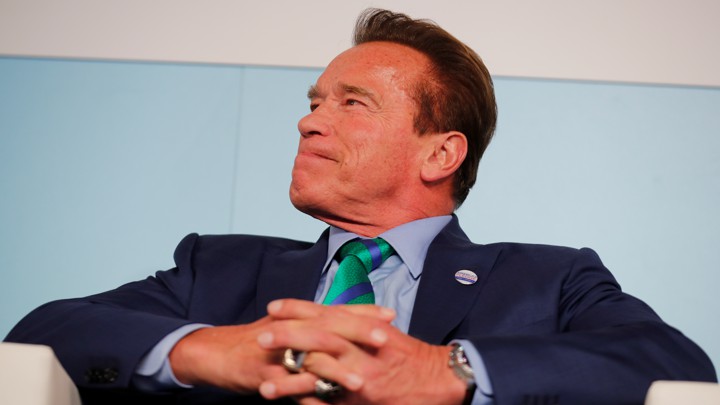 Arnold Schwarzenegger is preparing to travel to the future of the gerrymandering war.Tuesday brought wins for independent redistricting commissions that Schwarzenegger backed in three of the four states where they were on the ballot—Michigan, Missouri, and Colorado, with Utah still counting, but also trending toward yes. Now the former California governor has begun planning a summit for advocates, donors, and the people behind some of the successful campaigns to brainstorm and build to more wins.

It will be held at the Schwarzenegger Institute at the University of Southern California. Plans are being made to bring the group together within the next few months.

With Tuesday's ballot questions, now nearly one-third of House districts will be drawn through independent redistricting according to a new report by the Schwarzenegger Institute, by commission or other methods. Schwarzenegger's goal is to get that number to half by the end of 2020, and he already has his eyes on Virginia, among other states.

"My biggest complaint is always when people say, 'This is [what's] wrong with politics.' Now I say, 'What do you do about it?'" Schwarzenegger said in an interview on Thursday. He compared the effort to some of his other passions. "We're going to make a plan, and this is going to be a new family. It's like the environmental family or the fitness family."
Schwarzenegger became obsessed with redistricting reform after successfully pushing a ballot initiative in California, which passed narrowly in 2008 for statehouse races followed by another in 2010 for House seats, with opposition from both Republicans and Democrats. The measure took the power to draw the lines of House and state legislative districts away from politicians and gave it to a nonpartisan commission.At the time, California was one of only a handful of states that did this, and the results changed the makeup of who voters ended up sending to Sacramento and Washington.

After the four ballot questions Tuesday and the federal judge who on Wednesday threw out the Maryland congressional map on the grounds that it violated the Constitution through excessive partisanship, Schwarzenegger said he sees "a wave" of its own, albeit one that most election coverage has missed.

"The only thing I can come up with is that people are so dissatisfied with how things are going that they think this is the next best thing, that they can get power and change," he said, explaining what drove the wins.

Last month, Schwarzenegger hosted a raffle that raised $50,000 on Crowdpac for redistricting reform. The winners, a physical therapist and a nurse who had never made a political donation before, got to visit him on the set of the latest Terminator movie in Budapest. He also spent a day in mid-November campaigning at rallies and fundraisers in Michigan and Colorado for the ballot amendments there. Ahead of the Ohio ballot question that passed in the spring, he allowed signatures to be gathered at the Arnold Classic bodybuilding competition in Columbus, and did a series of videos promoting it.

Schwarzenegger said he's ready to do more of that.

"If that's what it takes to get the signatures, I will be the one to do it. I'm not ashamed of standing in a mall and asking people for signatures," Schwarzenegger said. "Anything that works and gets us there, because in the end the only thing I care about is to actually achieve our goal. We'll improvise as we go along, because every state has different needs, and we don't know where it's going to take us."

We want to hear what you think about this article. Submit a letter to the editor or write to letters@theatlantic.com.

EDWARD-ISAAC DOVERE

 is a staff writer at 

The Atlantic

. He was previously chief Washington correspondent at Politico.