Cleaning Up Our Hidden Shorelines
We hosted our first-ever "Urban Litter Challenge" and here's how the day went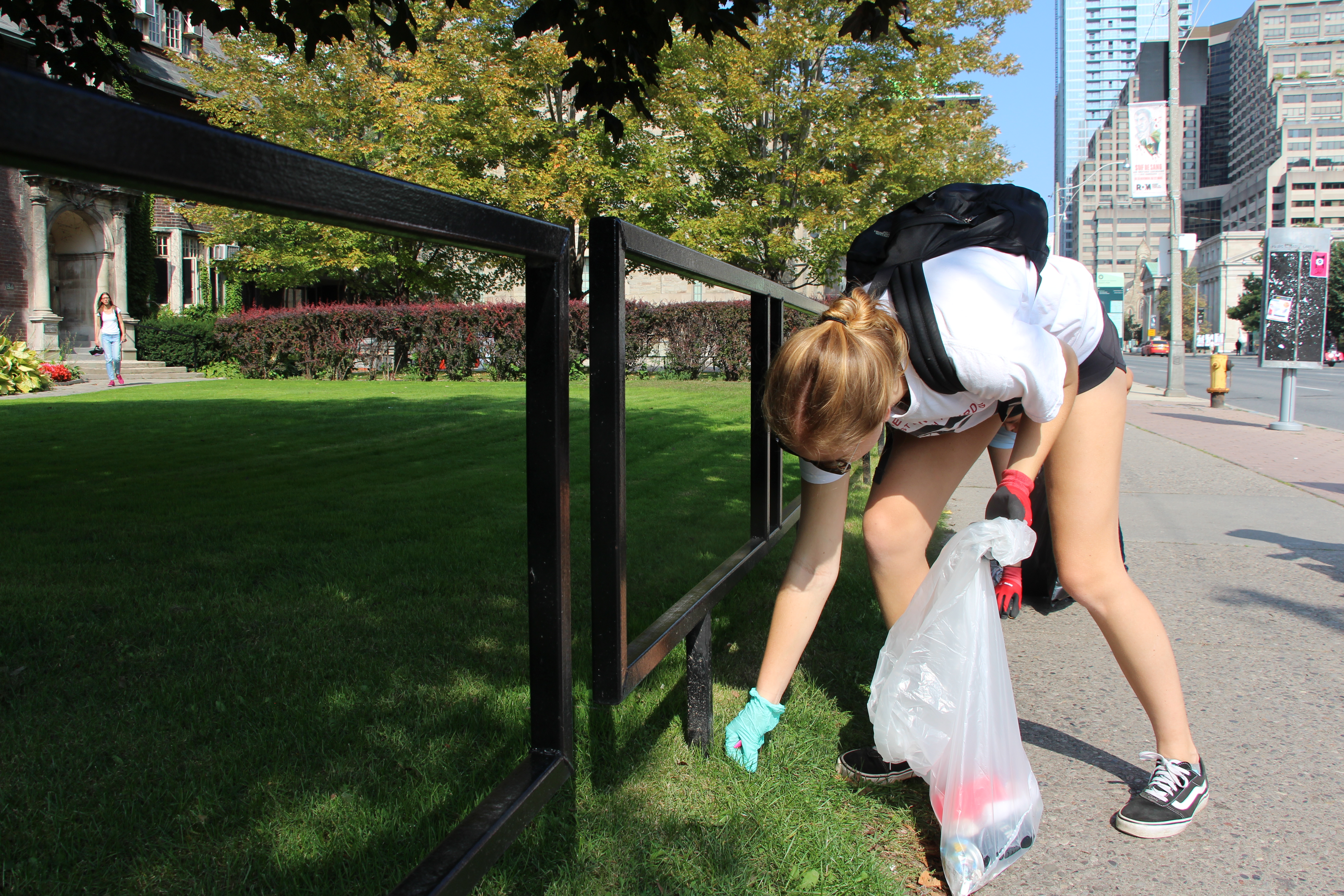 This blog was written by Chelsea Rochman, Assistant Professor at the University of Toronto, co-founder of the University of Toronto Trash Team and Scientific Advisor to the Ocean Conservancy; and Susan Debreceni, the Outreach Manager and co-founder of the University of Toronto Trash Team. 
As you wander around the neighborhoods of downtown Toronto, it's likely that the shores of Lake Ontario are the furthest thing from your mind—but the shoreline is closer than you think. That's because we all live in a watershed, where creeks, streams and rivers lead to oceans and lakes. Here at the University of Toronto (a downtown and inland location), we are connected to Lake Ontario via storm drains, so it was the perfect location to host an International Coastal Cleanup and connect our local community to our local watershed.
More than just a typical cleanup
The morning started on campus at Hart House Circle, where a team of eager Trash Team volunteers gathered to set up for the day and greet student and community volunteers before grouping them into small teams. These teams were then encouraged to keep a record of what they found by recording their findings on data cards as part of the Great Canadian Shoreline Cleanup. These findings are important citizen science contributions that can be used to inform best practices for future waste management.
@ U OF T TRASH TEAM
We were also joined by friends and collaborators to set the tone for the big day. Bear Standing Tall opened the cleanup with an opening prayer, local City Councillor Mike Layton sent words of support for our team to share, and Geoff Wilson (CEO of PortsToronto) spoke about the importance of protecting Lake Ontario, including some exciting updates on their plans to install Seabins in the waterfront. And with these welcoming words, our teams were sent off to clean!
What did we find?
Based on past cleanup experiences, we predicted some classic repeat offenders would top the list once again, and as it turns out our predictions were correct. Cigarette butts were easily the number one item found (more than 7,000!), followed by miscellaneous scraps of paper, small plastic pieces, food wrappers and plastic bags. Honorable mentions included bottle caps, miscellaneous packaging materials, various personal hygiene items and coffee cups. One of the most unpredictable things about the cleanup was guessing how many people would show up, and we were thrilled with a turnout of 80 volunteers! Together, they removed more than 50 kg of trash from our local watershed, filling nearly 50 bags of garbage and recycling!
U OF T TRASH TEAM
What made the day most memorable?
It's always tricky to pinpoint the most memorable part of a day where nearly every moment was incredible, but there were definitely a few standout moments to share. Volunteer teams were encouraged to come up with creative names for their group and they sure did not disappoint, including such creations as the Trash Pandaz, Cigarette Butties, Alvin and the (crumpled) Chip Bags and Dumpster Defenders. Another great moment that happened throughout the day was when passersby expressed their thanks to our volunteers for keeping the neighborhood clean. All in all, it's safe to say that the most memorable part of the day for everyone was seeing just how big of a difference they could make in such a short timeframe.
We're already counting the days until next year's International Coastal Cleanup event, but there is no reason to wait 365 days to make a difference. Every day we wander our watersheds, so this year we challenge you to clean a piece of your watershed every day by removing one item of litter from a roadside, park or local creek. If someone asks you what you are up to, tell them you are cleaning the oceans and lakes, because no matter where we are, we are always in a watershed.
If you want to stay up to date on all things Trash Team, follow us here. See you at the next cleanup!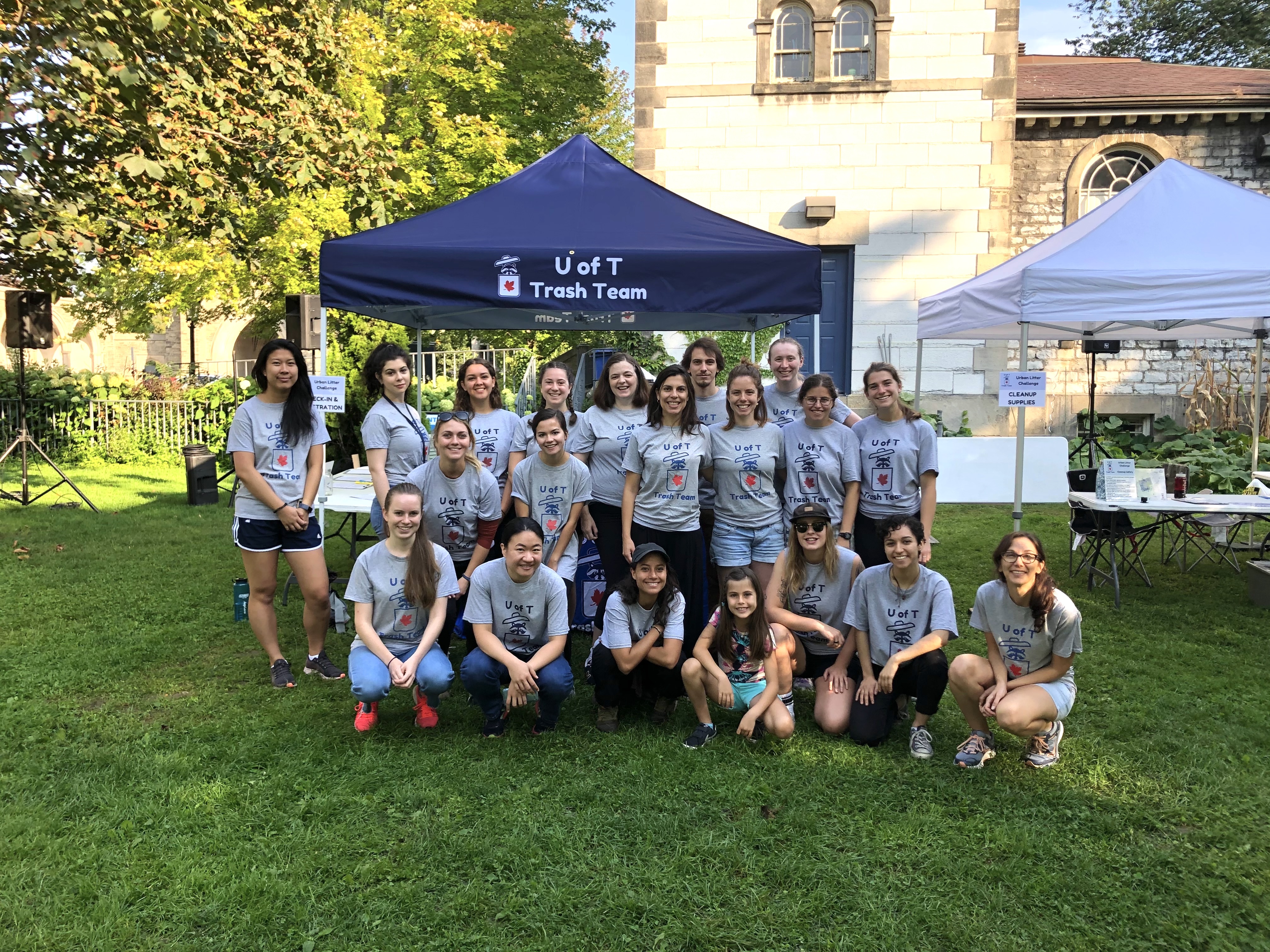 Chelsea leads the Rochman Lab at the University of Toronto, investigating the ecological implications of plastic debris in marine and freshwater habitats. She has published dozens of scientific papers in respected journals, led international working groups on plastic pollution, and participated in policy meetings regarding local and international plastic waste strategy. Through research, education, public engagement and policy, the Rochman Lab advances solutions to the serious challenge of aquatic plastic pollution.
Susan is passionate about connecting individuals with meaningful opportunities and spent the last decade supporting a national network of community volunteers through the Great Canadian Shoreline Cleanup. She now leads outreach programming with the University of Toronto Trash Team, guiding and mentoring a team of postdocs, undergraduate and graduate students to bring waste literacy to local schools and the general public.