DERAILED IN D.C.: "BOMB TRAINS," POISON TRACKS AND MY CHEMICAL EXPOSURE
A CSX freight train derailed in Washington, D.C. last week. The Washington Post reported that ethanol, which is colorless and highly flammable, was leaking out of one of the overturned cars in the accident's immediate aftermath.
The 14-car derailment also "spilled half the liquid contents of a 15,500-gallon tanker" filled with a sodium hydroxide onto the ground beside the Rhode Island Avenue Metro Station. That's nearly 8,000 gallons of something the Post describes as a "highly caustic chemical."
Sodium hydroxide is also known as "lye." If that name sounds more familiar, perhaps it's because killers often use it to dissolve their victims' bodies on TV crime shows. It has also been used by a host of real-life murderers, including Mexican drug cartel assassins and the 1897 killer known as the "Sausage King of Chicago." It's the corrosive of choice because it dissolves flesh and bone more effectively than acid when it's heated.
(It's also used in household cleaners.)
Somewhere between 40 and 50 tons of sodium hydroxide may have spilled onto the ground outside the Metro station. (Its weight per gallon depends on its density).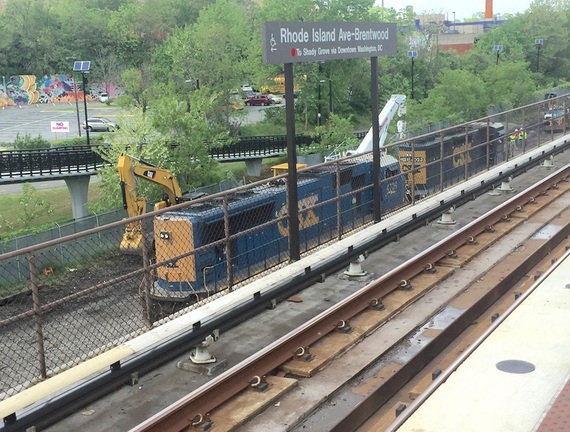 Exposure
Local officials, including D.C. Assistant Fire Chief John Donnelly, insisted that the fumes posed no threat to public health. But I fell ill after spending a few minutes at the accident site a couple of days later. It's possible that I reacted to something else, like the airborne materials raised by the cleanup operation itself. But my symptoms matched those of sodium hydroxide exposure.
The Centers for Disease Control says that "inhalation of sodium hydroxide is immediately irritating to the respiratory tract. Swelling or spasms of the larynx leading to upper-airway obstruction and asphyxia can occur after high-dose inhalation. Inflammation of the lungs and an accumulation of fluid in the lungs may also occur."
The CDC notes that "people with asthma or emphysema" – I have mild but chronic asthma – "may be more susceptible to the toxicity of this agent."
I carry an inhaler, which I used, and felt better shortly after leaving the site. But sodium hydroxide poses risks for another portion of the population.
"Children may be more vulnerable to corrosive agents than adults because of the relatively smaller diameter of their airways," writes the CDC. There are two elementary schools and a parochial school in the immediate vicinity of the accident site.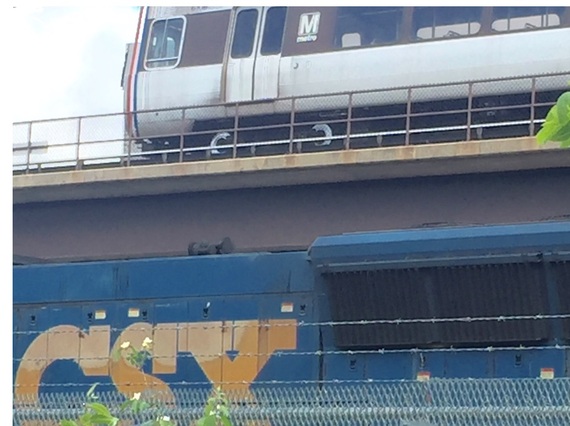 The Accident Scene
While a number of derailed cars had been removed by the time I visited the scene, several remained. The elevated platforms where passengers boarded and disembarked from their Metro trains were above the cars. They were downwind from them on the afternoon of my visit.
Around the accident site, people went about their daily lives. Mothers pushed infants in their strollers while older children tugged at the hem of their skirts. An old man leaned against the railing of a pedestrian bridge that crossed the railroad tracks, smoking a cigarette and polishing his dark glasses. A teenager in a button-down shirt hurried by, possibly late to a job at the strip mall a few hundred feet away. Bicyclists, runners, and hikers passed on a footpath that ran alongside the tracks and the derailed cars.
Disaster-movie fans would have found in these scenes the clichéd images of normality that precedes the typical film's big catastrophe, with one major difference: except for one or two bicyclists, all the people around the site were African American. I don't want to say that made a difference, either in the government's response to the accident or the media's coverage of it.
But it could have.
Movies don't usually use black neighborhoods for those pre-disaster scenes of everyday life, but life there seems ordinary enough: Apartment buildings. A Popeye's, a Subway, and a Chinese restaurant. The Greater Mt. Calvary Holy Church. A "warehouse-style clothing retailer." A private school for children from infancy through the eighth grade.
None of these locations were mentioned in the press reports I read, although each was within 1,000 feet of the accident. On the other hand, at least one report mentioned that the accident took place three miles from the White House.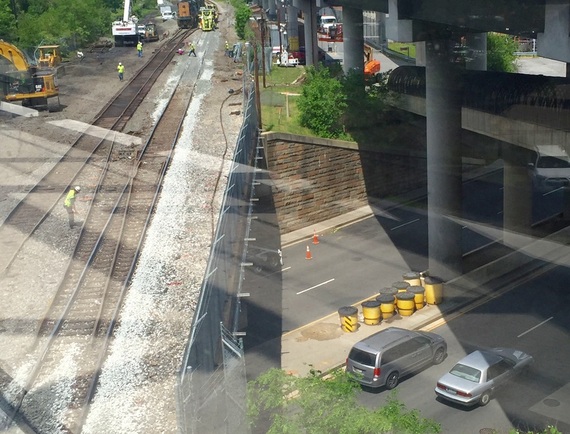 What If Terrorists Had Done This?
To be fair, our society has been consistently indifferent to railway accidents everywhere. A series of other disasters and near-disasters all across the country, many involving the CSX Corporation, has so far failed to rally people to the cause of rail chemical safety. For example:
A 60-car CSX train derailed inside a Baltimore tunnel in 2001, starting a chemical fire that kept thousands of workers from their jobs for several days. Fifteen streets were closed down for five days, three Baltimore Orioles games were canceled, and light rail service was suspended for seven weeks.
The 2007 derailment of a CSX train carrying hazardous materials in Kentucky sent 100-foot flames shooting into the air, spread heavy black smoke, and burned the surrounding area. Residents were evacuated and emergency work continued for six days.
"A dark, thick plume of smoke could be seen for miles after two of 15 derailed cars from a CSX-owned train caught fire," following a collision outside Baltimore in 2013. The fire from the train's chemical cargo burned for 10 hours.
In 2014, a CSX train crashed in Lynchburg, Va., spilling 30,000 gallons of oil and bursting into flames.
Also in 2014, a train carrying hazardous materials in 16 of its 121 cars crashed into a car near Bear Mountain, NY. Its cargo included hydrogen peroxide, sodium hydroxide, hydrochloric acid and sulfuric acid.
Three CSX trains collided and crashed in Indiana in 2012. Residents were evacuated due to fears that hazardous materials might leak from the wreckage.
The fiery crash of a CSX train carrying shale oil in West Virginia in 2015 forced hundreds of local residents to flee their homes.
A CSX oil train crashed in West Virginia in 2015. "Fireball fills West Virginia sky after oil train crash," said a headline on the BBC's website. Three days later officials had still not reached the site because the wreckage continued to burn.
This is not a comprehensive list of CSX accidents. According to the Federal Railroad Administration, CSX trains carrying hazardous materials have derailed nine times since the start of this year alone.
And other carriers have had their share of toxic incidents, some even more severe. Two Norfolk Southern trains crashed in South Carolina in 2005, releasing 60 tons of chlorine gas. One person died from the gas. (Nine others died in the crash.) An estimated 554 people were taken to local hospitals for symptoms of chlorine exposure. Seventy-five were admitted for inpatient care and 5,400 people were evacuated from their homes for several days.
A Canadian Pacific Railway train derailed in Minot, North Dakota in 2002, spewing a toxic cloud of anhydrous ammonia that killed one person and injured nearly 100 others. The National Transportation Safety Board found that "11 people sustained serious injuries, and 322 people, including the 2 train crew members, sustained minor injuries. Damages exceeded $2 million, and more than $8 million has been spent for environmental remediation."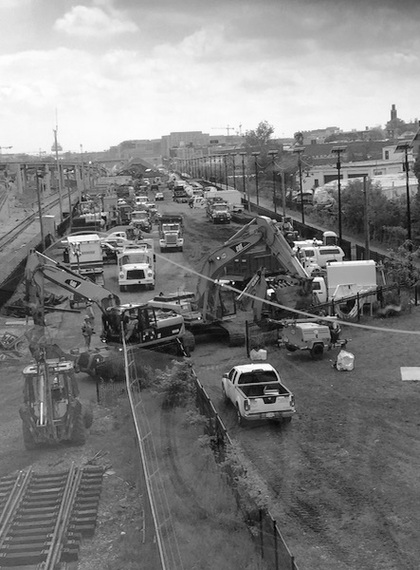 Trains in Vain
These accidents, especially the ones involving loss of life, are tragic enough. But each is a warning. Future "bomb train" accidents could result in much more death and destruction than anything we've seen so far.
It's strange that we don't seem to worry very much about this ever-present threat of poison clouds and massive explosions. If these incidents had been caused by terrorists, rather than trains, our entire way of life would have changed.
Instead very little has.
Not everyone is indifferent to the danger, of course. In fact, the environmental group 350.org is participating in a mass action against "bomb trains" this Saturday, May 14 in Albany, N.Y., as part of a worldwide wave of actions against fossil fuels.
But the nation's lack of interest in this subject is striking. Railroads are increasingly demanding that large freight trains, which once carried five-person crews, now be operated instead by one lone engineer. They point to computerization and other technological advances, seemingly unaware of the added safety risks posed by fatigue and isolation.
CSX is currently spending $170 million to expand the Virginia Avenue Tunnel in the Navy Yard district of Washington. Residents say they're concerned that the added capacity will increase the volume of dangerous cargo CSX ships through the nation's capital, increasing the risk of a major catastrophe there. (The Virginia Avenue Tunnel is 2.8 miles from the White House, in case you were wondering.)
It will take concerted public action to move the government on this issue. Meanwhile, the nation already seems to have forgotten last week's accident. The sun was struggling to break through the clouds the day I visited the site. The Capitol Dome could be seen in the distance, surrounded by faintly visible scaffolding as it undergoes its $60-million-dollar renovation.
A few feet from the derailed cars and cleanup crews, crowded Metro trains came and went overhead. And off in the distance, the Capitol building reflected the faint rays of the late afternoon sun, majestic and unmoving as always.