Germany marks first ever quarter with more than 50 pct renewable electricity
Germany produced nearly 52 percent of its domestic electricity consumption with renewable power in the first three months of 2020, marking the first full quarter in which renewables covered more than half the country's power needs, utilities association BDEW and the Centre for Solar Energy and Hydrogen Research Baden-Württemberg (ZSW) reported. That's up from about 44 percent in the first quarter of 2019. The numbers were driven by record wind power production in February, unusually high solar production in March, and a dip in overall energy use tied to the coronavirus crisis. Because of those unusual circumstances, BDEW warned it's too soon to project whether the numbers might hold going forward. "The performance of renewables is very encouraging. However, we should always bear in mind that this is only a snapshot and includes many one-off events," BDEW head Kerstin Andreae said in a statement. But BDEW also noted that the numbers reflect several underlying policy shifts, including the shutdown of nuclear and coal power plants that were taken offline in late 2019.
The numbers, combined with increased renewable generation in 2019, put Germany on track to meet its 2020 target for increasing renewables' share of total energy consumption (which includes not just electricity, but refers to all energy, for example fossil fuels used in transport and heating). Germany has pledged to produce 18 percent of its total energy consumption with renewables by the end of the year. "The EU renewable energy target of 18 percent in 2020 is within reach," economy minister Peter Altmaier said in the statement. "We must now work to ensure that we achieve the targets on a sustainable basis and further increase the share of renewable energy."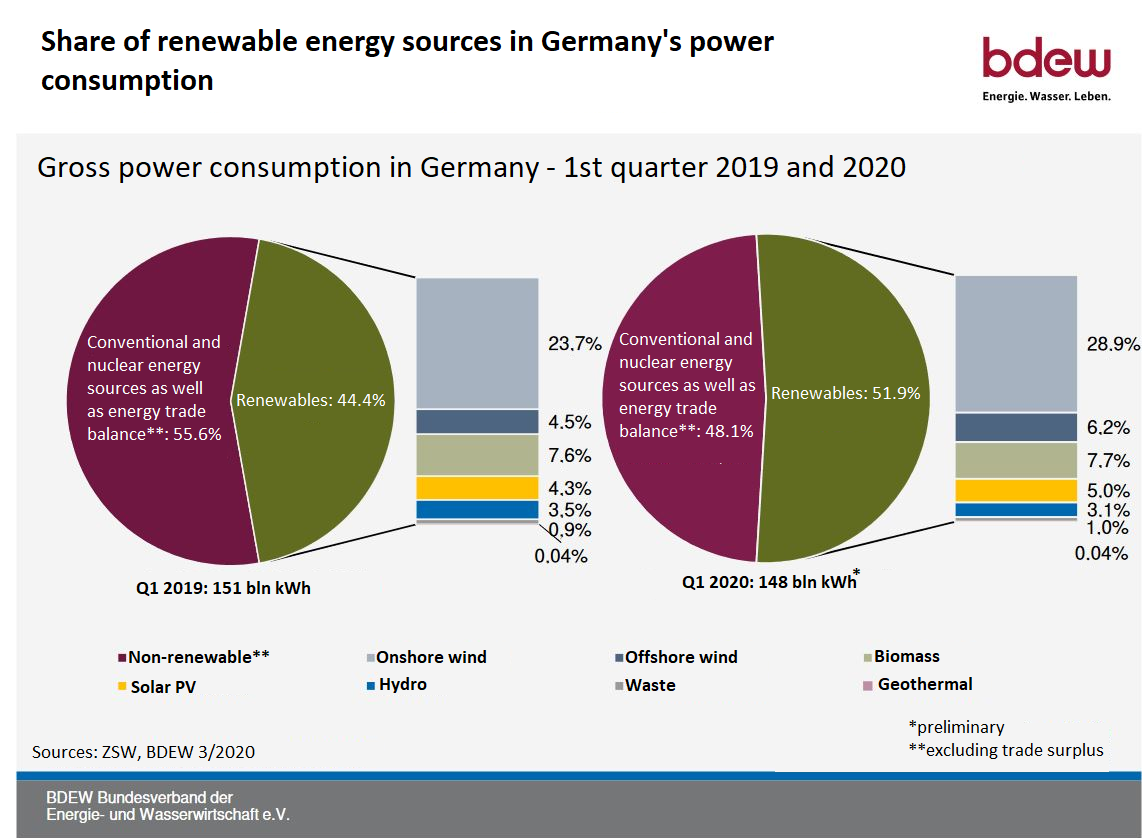 Overall, Germany used a total of 148 billion kilowatt-hours (kWh) of electricity in the first quarter of 2020, down about two percent from the same period in 2019 (151 billion kWh). Renewables made up 51.9 percent of that total, BDEW and ZSW said. The majority of Germany's renewable power came from onshore wind, which supplied 28.9 percent of the country's electricity needs, up from 23.7 percent in the first quarter of 2019 (see graph). While this is the first full quarter in which renewables have covered a majority of the country's electricity needs, Germany has crossed that threshold before during individual months, BDEW said.
Meanwhile, the grid operator 50Hertz announced several new regional records for renewable energy in the first quarter. In February, wind and solar power together covered 85 percent of electricity needs in 50Hertz's area of operation, which stretches from the Baltic Sea to the Ore Mountains near the border with the Czech Republic. And on March 23, the utility delivered a record 8500 megawatts (MW) of solar power without having to shut down any photovoltaic systems, it said.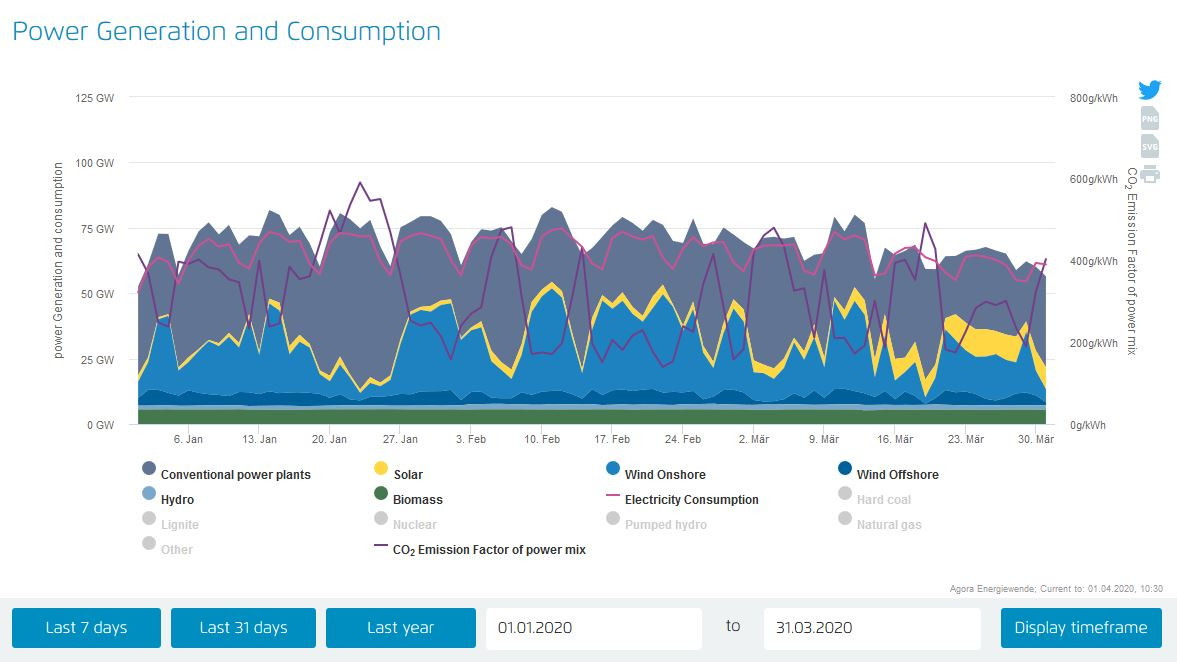 But utilities warned that the record high numbers shouldn't obscure the fact that the renewables industry currently faces major obstacles. The expansion of onshore wind farms has slowed to a crawl, while the solar industry faces a cap on government subsidies that it could reach within months. BDEW head Andreae warned the renewables gridlock must be resolved if Germany is to meet future climate targets. "The record figures stand in sharp contrast to the dramatic situation in the current expansion of wind and PV systems: If the obstacles and caps are not removed quickly, the 65 percent target by 2030 will hardly be achievable," Andreae said. She added that policymakers should include renewable energy in any response to the coronavirus crisis. "The difficult economic situation further intensifies the pressure to act: It must be ensured that further investments are made in the expansion of renewables so that they can guarantee the energy supply of tomorrow," Andreae said.