Harley-Davidson lovers in Milwaukee discuss Trump, tariffs … and time
The Guardian
Bikers are getting older and the chill from the president's tariffs is getting colder – what's an American icon to do?
Milwaukee is a pretty city. On any normal day, visitors can walk around the genteel downtown area, taking in a slew of neo-gothic buildings, or look to the east, where sailboats bob on Lake Michigan.
But this Labor Day weekend, it had a distinctly grittier feel. The air was filled with the roar of motorcycle engines, booming guitar music and the smell of smoke, both exhaust and cigar. It was the 115th anniversary celebration of Harley-Davidson and the bikers were in town.
The quintessential American motorcycle brand was founded in Milwaukee in 1903. The company is still headquartered here, and still makes some of its bikes in the city. For the past few decades, large-scale celebrations of the fact have taken place every five years.
But this year, after Harley-Davidson responded to Donald Trump's tariffs by moving some production overseas, the president has been encouraging people to boycott the company. For the crowd of Harley owners who gathered this weekend, it was easy to feel torn between Trump and their beloved brand.
"It's American made, it should stay American made," said Mike Lupo, the owner of a Harley-Davidson Street Glide, a big, billowing motorcycle that looked like it could stand up on its own. "It's one of the reasons we buy Harley, because they're made right here. I understand Harley's situation but I'm with Trump on this deal, I don't think they should be doing it."
Lupo, whose bike-riding nickname is "Six String", owing to his prowess on the guitar, was eyeing up some new models at the Harley-Davidson Museum. Thousands of bikers poured in each day, American flags billowing behind some bikes, music blaring from others. Combined with country rock blasted from a stage, the throb of the engines was disorientating.
If you got a Harley and I got a Harley, that's it. We're friends. You've most likely got common views on other shit
For many attendees, the fight between Harley-Davidson and Trump had a similar effect. People liked Trump's tough tariffs on steel and other goods, meant to protect American workers. They were behind the president in most of his dealings. But not when it came to their bikes.
"I've had a relationship with Harley for 45 years," Lupo, 62, shouted over the music. "I'm not going to stop riding Harley. It's brand loyalty. It's the way they sound, the way they look, the way they ride."
A Vietnam-era air force veteran, Lupo is the founder of the Midwest Veterans group. Decked out in a black leather vest, he was wearing a patch bearing the name of his division. He was with another Midwest Veterans member, Bob "Beer Man" Sterling. A towering man with Harley Davidson anniversary tattoos dating back to 1993, he said riding a Harley was much more than a vehicular choice.
"It's a lifestyle," he said, gesturing to the thousands of other leather-clad bikers. "It's here through the good times, it's here through the bad times, there's no other brand where you get this kind of thing.
"If you got a Harley and I got a Harley, that's it. We're friends. If you've got a Harley you've most likely got common views on other shit."
Such common views, Sterling and Lupo agreed, included a belief in American-made products and shared politics. But like Lupo and others the Guardian spoke to, Sterling said Harley-Davidson had a pull so unique, it allowed him to overlook some long-held beliefs.
"I'm not liking it," he said, of the company moving production in response to Trump's tariffs. "But I don't think this is a permanent thing. Once the trade war eases up I think they'll come back. And I might not like it, but it's not gonna change my views about Harley."
'We're not buying anymore'
It hasn't been a great few years for Harley-Davidson. The company was one of only two American motorcycle manufacturers to survive the Great Depression – the other, Indian, went out of business in 1953 before reviving under different ownership – but it now faces fundamental challenges.
Sales have fallen in each of the past four years. According to the Motorcycle Industry Council, in 2017 the average age of a motorcycle owner was 47, up from 32 in 1990. People between 18 and 24 made up just 6% of all riders.
In Milwaukee, the age of the crowd was clear. Much of the hair in beards, mustaches and heads was greying. Trump's calls to stop buying Harley does not give many such people a dilemma.
"To be quite frank, I'm never gonna buy a Harley again," Lupo said. "I'm a core buyer and we're not buying anymore. You don't put the miles on any more. It's tougher on your body when you're 62."
I think it's bad for America to criticize American companies. Harley is an American icon and he should support them
Harley-Davidson says it aims to add 2 million riders in the US by 2028. It is launching new bikes, including electric models.
It is also pinning its hopes on increasing sales international sales, particularly in India, where it is releasing a line of smaller-engined bikes. The global appeal of Harley-Davidson was easy to spot in Milwaukee: riders wore jackets and flags bearing the names of motorcycle chapters from Brazil, Italy, Colombia and Mexico.
Edgar Bedolla, 31, had ridden 2,500 miles from Queretaro City in Mexico to attend the anniversary for the first time.
"The quality and design, it's very different from other motorcycles," he said. Even so, his back was aching from four days spent on his Fat Boy, a stripped-down, squat bike with two huge exhaust pipes plunging along the right-hand side.
"I think it's bad for America to criticize American companies," Bedolla said of Trump's Harley-Davidson broadsides. "Harley is an American icon and he should support them."
'People want their Harleys'
For anniversary celebrations, Milwaukee essentially hands itself over to Harley-Davidson. Themed events were staged at 13 locations, including street blocks, Harley dealerships and even the lakefront, where a "Beach Brawl" race took place.
Veterans Park, a grassy space on the shore of Lake Michigan, was one of the main hubs. There was the wall of death, where a man rode a motorcycle at a 90-degree angle. There was the globe of death, where three people rode motorcycles inside a 15ft sphere. There was a ferris wheel.
On Friday, a crowd gathered for a best bike competition. The bike attracting the most attention was a Harley-Davidson Electra Glide Ultra Classic – one of the cruiser-style motorcycles most popular with the 50- to 60-year-old set. Tall, long and wide, with flowing body lines, it could almost have passed for a boat.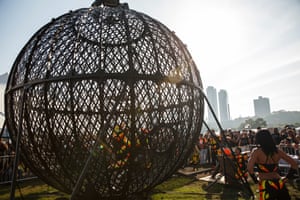 It had multicolored artwork weaving the length of its body. On the front, a flotilla of ships was depicted, steaming towards a patch of green land while a helicopter, a pair of jet fighters and a tank hovered – improbably – in the sky. An American flag ran the length of the bike.
"The theme is military," said Lee McAndrew, the bike's 70-year-old owner. A Vietnam veteran from Milwaukee, he has owned Harley-Davidsons since 1970. He won best paint and best in class.
McAndrew voted Trump – "His style is crude but he's a good businessman and America needed a good businessman" – but he disagreed with the attacks on Harley.
"Much is being played about that," he said, "but it's really not that big a deal. There's no such thing as 100% American made. You look at your Ford, your Chevies, there's all stuff being made all over. You can't help it. That's life."
As for Trump's call for a boycott: "That's not going to happen. People want their Harleys. People want their big bikes."
It seems unlikely that Harley-Davidson owners will ditch their bikes because of Trump. But if Trump manages to turn away younger buyers, it will add to the company's struggles.
Such is the tumult of the Trump presidency: even the most American of brands might not be American enough.