Heatwave sees record high temperatures around world this week
From Europe to Africa, extreme and widespread heat raises climate concerns in hottest La Niña year to date on record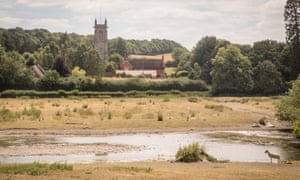 Record high temperatures have been set across much of the world this week as an unusually prolonged and broad heatwave intensifies concerns about climate change.
The past month has seen power shortages in California as record heat forced a surge of demand for air conditioners. Algeria has experienced the hottest temperature ever reliably registered in Africa. Britain, meanwhile, has experienced its third longest heatwave, melting the roof of a science building in Glasgow and exposing ancient hill forts in Wales.
The World Meteorological Organization (WMO) said the rising temperatures were at odds with a global cyclical climate phenomena known as La Niña, which is usually associated with cooling.
"The first six months of the year have made it the hottest La Niña year to date on record," said Clare Nullis of the WMO.
Taiwan is the most recent place to report a new high with a temperature of 40.3C in Tianxiang on Monday. This followed a flurry of other anomalies.
Last week, a weather station at Ouargla in Algeria's Sahara Desert, reported a maximum temperature of 51.3C on 5 July, the highest temperature reliably recorded in Africa.
Even when the sun goes down, night is not providing the cooling relief it once did in many parts of the world. At Quriyat, on the coast of Oman, overnight temperatures remained above 42.6C, which is believed to be the highest "low" temperature ever recorded in the world. Downtown Los Angeles also saw a new monthly July minimum overnight record of 26.1C on 7 July.
Globally, the warmest year on record was in 2016, boosted by the natural climate cycle El Niño. Last year, temperatures hit the highest level without that amplifying phenomenon. This year, at the other cooling end of the cycle, is continuing the overall upward trend.
Swathes of the northern hemisphere have seen unusually persistent warmth due to strong, persistent high pressure systems that have created a "heat dome" over much of Eurasia.
"What's unusual is the hemispheric scale of the heatwave," said Michael Mann, director of the Earth System Science Center at Pennsylvania State University. "It's not just the magnitude in any one location but that high temperatures are being seen over such a large area."
Northern Russia's exceptionally sunny weather – seen on TV by billions thanks to the World Cup – has caused wildfires that affected 80,000 hectares of forest near the Krasnoyarsk region, which reported daily anomalies of 7C above average. The Western Siberian Hydromet Center has issued storm warnings after temperatures of more than 30C for five days. Climate watchers fear this will accelerate the melting of permafrost, releasing methane – a far more potent greenhouse gas than CO2.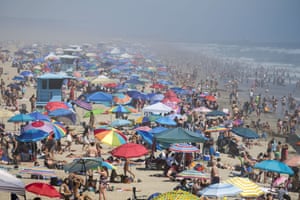 In California, daytime records were also set last week at Chino (48.9C), Burbank airport (45.6C) and Van Nuys airport (47.2C). In Canada, at least 54 deaths have been attributed to the prolonged heatwave and high humidity in Quebec. Montreal saw a new record high temperature of 36.6C on 2 July.
In Europe, the WMO has warned of droughts, wildfires and harvest losses after the second hottest June on record. Over the past two weeks, records have been set in Tbilisi (40.5C), Shannon (32C), and Belfast (29.5C)
Britain has cooled slightly in the past two days, after 17 days of temperatures over 28C. This was the third longest heatwave on record, following the record 19-day run in 2013 and the famous summer of 1976, when there were two prolonged spells of 18 days and 15 days. Dean Hall of the UK's Met Office said Britain's temperatures were forecast to rise again over the coming week.
The concern is that weather fronts – hot and cold – are being blocked more frequently due to climate change. This causes droughts and storms to linger, amplifying the damage they cause. This was a factor in the recent devastating floods in Japan, where at least 150 people died after rainfall up to four times the normal level.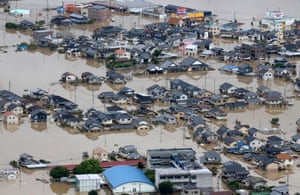 Paolo Ruti of the WMO said it was difficult to ascribe any one weather event to climate change, but that recent high temperatures, intense rains and slow-moving fronts were in line with forecasts of how rising emissions will affect the climate.
"Recent analysis suggests that anthropogenic forcing might indeed affect the characteristics of summer blocking events in the Euro-Asia sector, in particular leading to longer blocking episodes," he said.
Extreme weather events have buffeted much of the world over the past 12months, from the "Day Zero" drought in Cape Town to the abnormally powerful hurricanes Harvey and Irma that buffeted the east coast of the US and Caribbean.
Underscoring the link, a new report from scientists at the World Weather Attribution group indicates that manmade climate change and its effect on rainfall made the recent Cape Town drought three times more likely.