INTERVIEWS WITH ZAHA HADID: THE ARCHITECT'S WORK IN HER OWN WORDS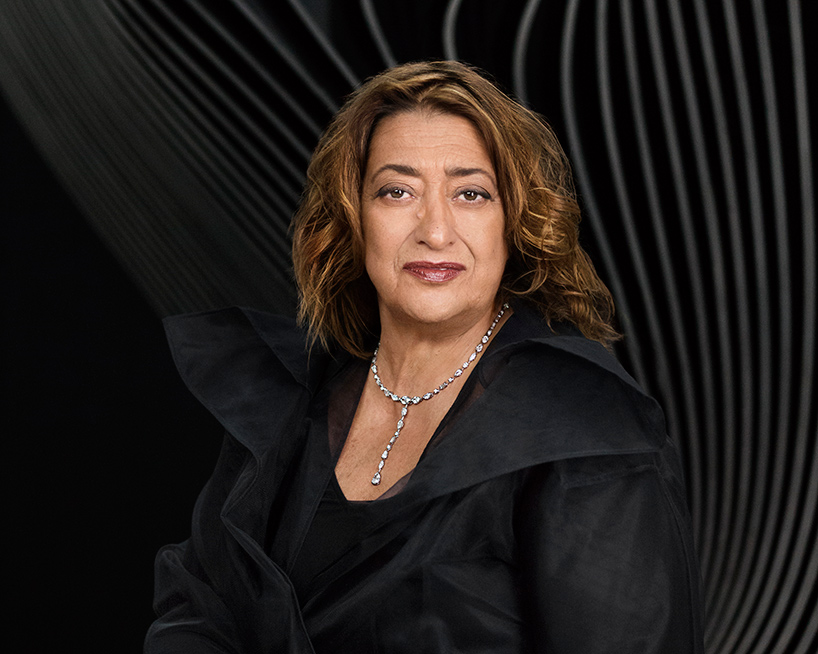 image by mary mccartney
on march 31, 2016, world renowned architect zaha hadid passed away at the age of 65. born in baghdad in 1950, she studied mathematics before enrolling at london's architectural association in 1972. by 1979 she had established zaha hadid architects, and began rising to global prominence. working with office partner patrik schumacher, the studio utilized a host of innovative technologies that often resulted in unexpected and dynamic architectural forms.
last year, hadid spoke with designboom about her upbringing, influences, and creative vision. see her responses in full below, and read on for more thoughts from zaha hadid taken from our previous interview in 2007.


DDP, seoul / image by virgile simon bertrand
see more of the project on designboom here
DB: what originally made you want to study architecture and become an architect, and what particular aspects of your background and upbringing have shaped your design principles and philosophies? for example, you have cited kazimir malevich as a major artistic influence on your work. how – and to what extent – do other creative fields continue to inform your architecture?
ZH: even as a little girl, I wanted to be an architect. my earliest memory of architecture, I was perhaps 6 or 7 years old, was of my aunt building a house in mosul in the north of iraq. the architect was a close friend of my father's and he used to come to our house with the drawings and models. I remember seeing the model in our living room and I think it triggered something, as I was completely intrigued by it.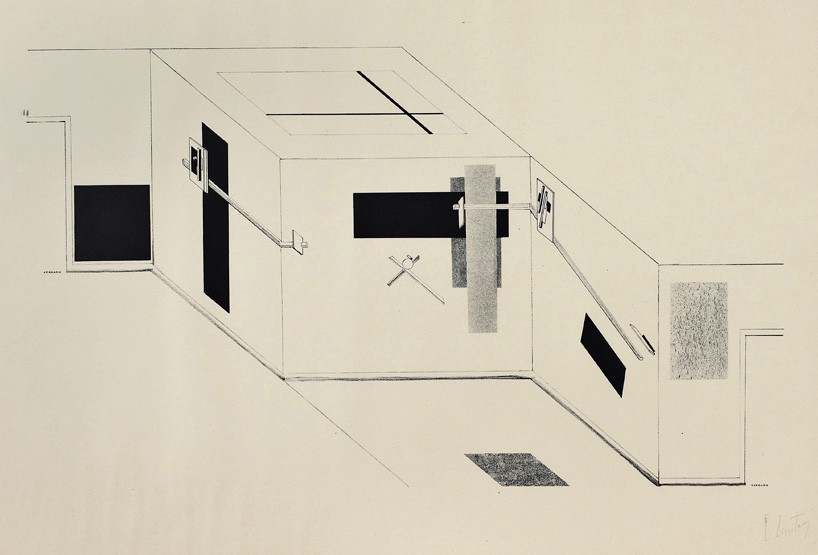 el lissitzky's kestnermappe proun, rob. levnis and chapman GmbH hannover #6 (1923)
ZH (cont.): from my first days studying architecture at the architectural association, I have always been interested in the concept of fragmentation and with ideas of abstraction and explosion, where we were de-constructing ideas of repetitiveness and mass production. my work first engaged with the early russian avant-garde; the paintings of moholy-nagy, el lissitzky's 'prouns' and naum gabo's sculptures, but in particular with the work of kasimir malevitch – he was an early influence for me as a representative of the modern avant-garde intersection between art and design. malevitch discovered abstraction as an experimental principle that can propel creative work to previously unheard levels of invention; this abstract work allowed much greater levels of creativity.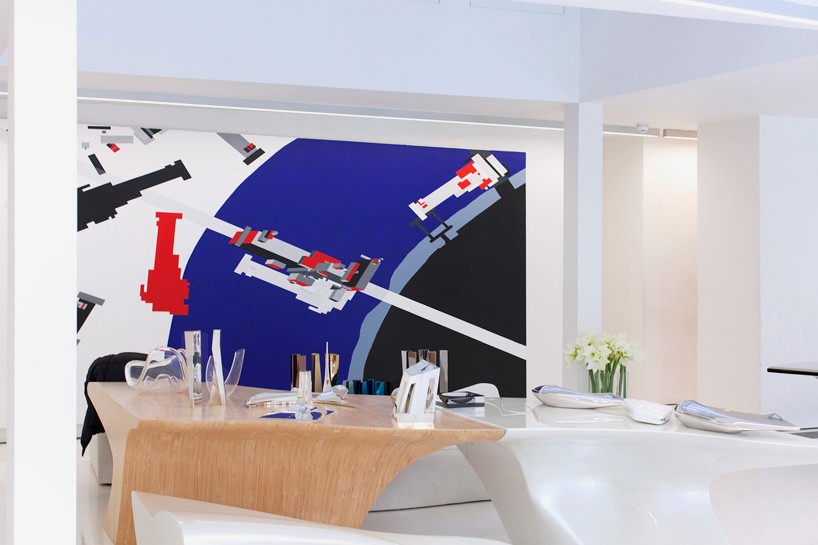 malevich's 'tektonik' (1976/1977) shown in-situ at zaha hadid's london home
image by davide pizzigoni
ZH (cont.): today, our collaborations with other creative industries provide us with an opportunity to express our ideas through different scales and in many diverse media. we see it as part of a continuous process of our on-going design investigation. it's a two way process – we apply our architectural research and experimentation to these designs – but we also learn a great deal from the process of collaborating with others who lead their own industries. a brilliant design will always benefit from the input of others. of course there is a lot of fluidity now between art, architecture and fashion—a lot more cross-pollination in the disciplines, but this isn't about competition, it's about collaboration and what these practices and processes can contribute to one another.

BMW central building, leipzig, germany
image by hélène binet
DB: you work at a range of scales, from chairs and tables to skyscrapers. do you have a singular approach, which underscores all your work? your work often embraces new forms of technology and materials, how important have these advances been in allowing you to fully realize the full scope of your creative vision?
ZH: in terms of form, all the projects interest me equally, although there are obviously large differences according to the scale and process of each project. the idea for a building or an object can come up just as quick, but there is a big difference in process. they all come out from the same thing; all the projects are connected somehow. there is the perception of architecture is different because it is a more immersive experience – it's about is how the person places herself in the space – whereas fashion is about how you place the object on the person.

jockey club innovation tower at hong kong polytechnic university / image by doublespace
see more of the project on designboom here
ZH (cont.): indeed, our designs become more ambitious as we see the new possibilities created by the technology of other industries. there is a strong reciprocal relationship whereby our more ambitious design visions encourage the continuing development of the new digital technologies and fabrication techniques, and those new developments in turn inspire us to push the design envelope ever further. the current state of architecture and design requires extensive collaboration and an investigative attitude and we continue to research and develop new technologies.

galaxy soho, beijing / image by hufton+crow
interview from 2007 –
DB: describe your style as a good friend of yours might describe it.
ZH: virtuoso of elegance. personal investigation, research, it's laden with so many ideas that one cannot extrude a single one, there is no formal repertoire. two years ago I focused on one apartment to see how many variations you can come up with in a given space with the same parameters. I would work on this repeatedly for days and you see that there is maybe seven hundred options for one space. this exercise gives you an idea of the degree at which you can interpret the organization of space, it is not infinite but it's very large. imagine if you multiply that to the scale of a bigger space, and the to the scale of a city. it is like a pianist constantly practicing – it's the same level of intensity. it increases the repertoires immensely – it is unpredictable. some people really live and work within the same doctrine, the same diagram with the same logic. we produce many diagrams to start with and that's why we have a large repertoire.

MAXXI museum of XXI century art, rome / image by richard bryant
see more of the project on designboom here
DB: can you describe the evolution of your work?
ZH: there are some very similar moments in the early work where the focus was on drawing, abstraction and fragmentation. then it moved to the development of ideas. lately it has become what architecture should be, which is more fluid organization. there has not been so much 'a change' but 'a development'.
DB: which of your projects has given you the most satisfaction?
ZH: 'the peak project' (a leisure club in china) because that was a very important departure for me. there are many, every time you make a discovery… I can't really say because different projects give you satisfaction in different ways. the BMW center in leipzig and the phaeno science center in wolfsburg, they were very exciting. I just went to see the contemporary arts center in rome which translates many ideas that I have been wanting to do.

messner mountain museum corones / image by inexhibit
see more of the project on designboom here
DB: who would you like to design something for?
ZH: it would be very interesting to design objects for everyday life, something where the ideas that are expressed can be launched into society. with products the form is almost the finished piece, but with architecture it is not. I've also always been interested in combining architecture with a social agenda, and I really think you can invest and be inventive with hospitals and housing.
DB: do you discuss your work with other designers or architects?
ZH: within the office of course. with other designers… I don't like to talk about myself so much. one discusses the ideas of friends.
DB: where do you usually work on your projects?
ZH: anywhere. I don't use the computer. I do sketches, very quickly, often more than 100 on the same formal research.

heydar aliyev center, baku / image by hufton+crow
see more of the project on designboom here
DB: what is the best moment of the day?
ZH: it used to be very late in the evening… if I'm in london it can be different than if I'm somewhere else.
DB: what kind of music do you listen to at the moment?
ZH: classical.
DB: do you read design and architecture magazines?
ZH: we have lots of these magazines in the office, but we usually don't read them.
DB: where do you get news from?
ZH: newspapers.
DB: are there any clothes that you avoid wearing?
ZH: vintage clothing. also I don't like the masculine style, jeans. I like issey miyake… and black dresses.

london aquatics centre / image by luke hayes
see more of the project on designboom here
DB: is there a designer or architect from the past that has influenced you or that you particularly appreciate the work of?
ZH: yes, there are a lot. erich mendelsohn, mies van der rohe, le corbusier, the constructivists…
DB: and contemporary designers and architects?
ZH: many. but too many are too obsessed by method. it becomes a dogma.

vitra fire station, weil am rhein, germany
image by christian richters
DB: do you have any advice for the young?
ZH: you have to be very focused and work very hard, but it is not about working hard without knowing what your aim is! you really have to have a goal. the goal posts might shift, but you should have a goal. know what it is that you are trying to find out.
DB: is there anything that you are afraid of regarding the future?
ZH: yes, the conservative values that are emerging, it may not effect architecture immediately but it will effect society and that's what worries me. the world is looking more and more segmented, the difference between people is becoming greater. one has to strive for a very open liberal society.