PEABODY ENERGY, WORLD'S LARGEST PRIVATE COALMINER, MAY FILE FOR BANKRUPTCY
Company says there's 'substantial doubt' it will go on after delaying $70m payment amid slowing global economy and tougher environmental standards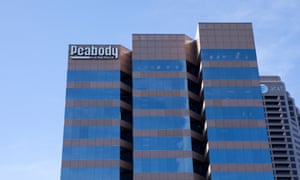 US mining giant Peabody Energy announced in New York on Wednesday that it is facing the prospect of filing for bankruptcy protection, a legal strategy to shield it from its creditors while it restructures, after failing to make a routine interest payment on its debts.
The company, based in St Louis, Missouri, is a huge presence in American and Australian mining and was owned for a time during the 1990s by Britain's Hanson plc industrial conglomerate.
The share price plunged to $2.28 in morning trading. The company's shares have already lost half their value in the last three months and 97% over the past year. The stock had previously hit a high of $299 a share in the first quarter of 2014.
The company said that it failed to make a $71m interest payment due on Tuesday and had a 30-day deadline to come up with the funds or there was a "substantial doubt" that it could continue as a going concern.
Peabody's core business is selling coal to electricity companies and acquiring mining operations and it does business around the world, also supplying steelmakers.
But many utilities are switching their supply of raw materials to natural gas because of cheaper prices and tightening environmental regulations.
At the same time economic uncertainty, especially in China, one of Peabody's big markets, is further depressing demand for coal.
Collapsing demand has already led to three other major US coal producers, Alpha Natural Resources, Arch Coal and Patriot Coal, filing for bankruptcy protection in the last year.
If Peabody Energy filed for so-called Chapter 11 bankruptcy protection next month it will be able to continue operating while it attempts to restructure its $6.3bn debts.
The company has filed a series of quarterly losses in the past two years as it was confronted by nosediving energy prices across the coal, oil and natural gas sectors and reported a $2bn net loss in 2015 as revenue fell 17% to $5.6bn.
US coal production fell to its lowest level in 30 years last year and electricity generation from coal in the US fell 13%, according to the US Energy Information Association.
In recent times, Peabody has come under growing criticism for attacking the science of climate change and promoting coal as a key tool to relieve poverty. Last year the company agreed to change the way it reports the risks posed to investors by climate change following an eight-year investigation by the New York attorney general.
Attorney general Eric Schneiderman accused Peabody of violating state laws prohibiting false and misleading conduct in relation to its public statements on the financial risks associated with climate change and potential regulatory responses.
Schneiderman said the company had circulated internal projections of the likely effect of regulations on its business while publicly arguing it was unable to predict the impacts of future policy on its revenues.
"As a publicly traded company whose core business generates massive amounts of carbon emissions, Peabody Energy has a responsibility to be honest with its investors and the public about the risks posed by climate change, now and in the future," Schneiderman said. "I believe that full and fair disclosures by Peabody and other fossil fuel companies will lead investors to think long and hard about the damage these companies are doing to our planet."
Peabody agreed to amend its disclosures but admitted no wrongdoing.
The company said it would now provide a more comprehensive analysis of the International Energy Agency's (IEA) world energy outlook scenarios, and include details on how future laws or regulations governing the coal industry could impact its business model.
And the UK Advertising Standards Authority asked the company to withdraw adverts labelling its product as "clean coal".
Peabody reportedly employs 7,600 people and owns mines or stakes in mining operations across the mid and western US and in Australia, including the world's largest mine in Wyoming.
The company was created in 1883 when Francis S Peabody, a young Chicago entrepreneur, began selling coal to homes and businesses.
A few years later Peabody opened his first mine in southern Illinois.
He was asked by President Woodrow Wilson to chair a government committee during the First World War aimed at improving supply and controlling prices in order to avert an energy crisis. The company flourished and expanded.
It merged with a rival and moved headquarters to St Louis in the 1950s and expanded into mining operations in the western US and Australian during the 1960s, and later Appalachia.
Peabody Energy boomed during the Middle East oil embargo of the 1970s and became the largest privately-owned coal company in the world.
From 1990 to 1996 it was owned by the UK's Hanson, before being de-merged and sold to America's Texas Utilities.