SENATORS AIM TO PROTECT UNDOCUMENTED IMMIGRANTS AS TRUMP TAKES OFFICE
Lindsey Graham and Dick Durbin are crafting legislation to send a message to Trump, who made a hardline approach to immigration central to his campaign
Since Donald Trump's victory in the US presidential election, undocumented immigrants who came to the country as children have feared they might be forced back into the shadows under the incoming administration.
But a bipartisan group of senators is now seeking to protect young undocumented immigrants, known as Dreamers, by extending the legal status granted to them under Barack Obama's executive action. Senators Lindsey Graham and Dick Durbin said this week they are crafting legislation to send a message to the president-elect, who made a hardline approach to immigration a centerpiece of his campaign and vowed to repeal Obama's 2012 directive on the first day of his presidency.
"This is a very defining moment about who we are as a party," Graham, a Republican senator from South Carolina who is leading the effort, told reporters on Capitol Hill.
"This is a test for America, not just Donald Trump, about who are we as a nation."
The Obama administration's Deferred Action for Childhood Arrivals program, known as Daca, has granted temporary permits to more than 740,000 young undocumented immigrants. Although Trump said shortly after his election that he will focus on deporting criminals, the president-elect has not walked back his pledge to rescind Daca. Immigration advocates have expressed concern that Trump's administration might use the existing federal list of Daca beneficiaries – which contains their personal information – to deport them.
Durbin told the Guardian that Trump's stated emphasis on deporting criminals had provided "a glimmer of hope" that he might be amenable to a compromise on the status of Dreamers. "[But] if they decide to start deporting these kids," he warned, "they're in for a battle."
Graham and Durbin were key members of a bipartisan group, known as the "Gang of Eight", who crafted a comprehensive immigration reform bill in 2013 that included a pathway to citizenship for the roughly 11 million undocumented immigrants living in the US. The legislation overwhelmingly cleared the Senate at the time but never came up for a vote in the Republican-led House of Representatives amid stiff opposition from conservatives.
Arizona senators Jeff Flake and John McCain, two of the other Republican members of the Gang of Eight, voiced their support for dealing expeditiously with the unique situation of Dreamers. Flake confirmed he was already working with Graham's office on the issue and expressed confidence that his Republican colleagues would not need much persuasion to protect what he dubbed "a sympathetic group" from the threat of deportation.
"I think a lot of them are convinced," Flake told reporters on Capitol Hill. "I think if this came up for a vote, it'd do well.'
"It's a population that ought to be able to finish their schooling and continue with their work."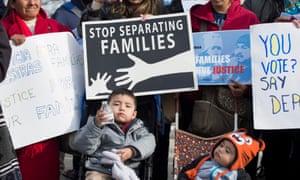 McCain told the Guardian he still favored passing comprehensive immigration reform but would work with Graham, who has long been one of his closest allies in Congress.
"Obviously, Dreamers are a special situation," McCain said. "I think we need to address the Dreamers, and it's important to do so."
Senator Marco Rubio, the fourth Republican member of the Gang of Eight, said he did not have any current plans to get involved in his colleagues' efforts. The former Republican presidential candidate told the Guardian he preferred to wait and see what direction the incoming administration would take, while reaffirming his preference for allowing Daca beneficiaries to hold their permits until they expire.
"Daca is unconstitutional and at some point it needs to go away, preferably because it's been replaced by legislation," Rubio said. "We don't have anything in the works right now."
Rubio backed away from comprehensive immigration reform after the failure of his bill in 2013, adopting instead a piecemeal approach beginning with border security. He did not indicate, when asked about Graham's plans, if he would support a standalone bill aimed solely at extending legal protections for Dreamers.
"I'm curious to see how the new administration wants to proceed on immigration," he said. "I imagine it would begin, and rightfully so, with enforcement."
Rubio also sought to craft legislation to grant legal protections to Dreamers that was shelved once Obama's 2012 executive order was announced.
It remains unclear what path Trump will pursue if he upholds his promise to repeal Daca upon assuming office. He would suspend the program and immediately revoke permits, which were granted in two-year increments, or unravel the executive order but still allow the permits for existing recipients to expire.
Graham said he agreed with Trump's assessment that Daca itself was unconstitutional, but cautioned that "two wrongs don't make a right."
"I hope that members of Congress will say listen, what will 'make America great' is to deal with these kids humanely," Graham said, invoking Trump's campaign slogan.
Although the timing of the legislation remained unclear, Durbin said in a Senate floor speech he and Graham could unveil a plan as early as next week – before the current Congress disbands – to send a message to the president-elect.
Durbin said he hoped to put forth a bipartisan effort "to say to the new president, 'give these young people a fighting chance'."
Roy Blunt, the Senate Republicans' vice-chairman, said there had not been specific discussions within the chamber's leadership on immigration reform.
But the Missouri senator said it was important to be "thoughtful" about young undocumented immigrants who "have no real connection with the country their parents brought them from".
"I think we can do that," he said.