SEVERE WEATHER HITS MIDWEST, SPAWNING AT LEAST 1 TORNADO
CHICAGO (AP) — At least seven people were injured as severe thunderstorms that swept across northern Illinois spawned a tornado, damaged homes and uprooted trees.
Particularly hard hit on Monday night was Coal City, a community of approximately 5,000 residents about 60 miles southwest of Chicago, where the National Weather Service confirmed a twister touched down.
Authorities were canvassing the area to account for all residents, Grundy County Emergency Management director Joe Schroeder told WGN-TV early Tuesday. He said there were at least two confirmed injuries and there could be more.
"We are early in the process of determining the level of damage," he said, adding at least 30 buildings were affected, many of them in residential areas. A shelter was opened at a local high school.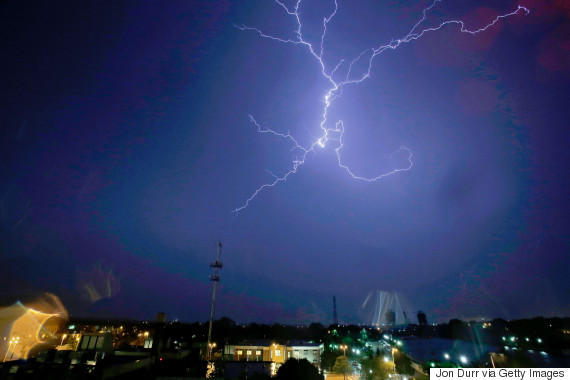 Lighting strikes outside of Joliet, Illinois, from a supercell that produced a tornado. (Jon Durr/Getty Images)

Roads in the city were blocked by fallen trees and power lines, Lt. David Doerfler of the Coal City Fire Protection District said.
Interstate 55 outside Coal City, which was hit by a tornado less than two years ago, also was shut down for hours due to downed power lines, according to Illinois State Police.
Further east, high winds caused damage near the Lee County community of Sublette.
Lee County Sheriff John Simonton said firefighters and other emergency workers responded to reports of damage in Woodhaven Association, a private camping resort. There was lots of flooding and many trees down, including some that fell on association homes.
One person there was hospitalized with injuries that were serious but not life-threatening, and four others described as "walking wounded" were either treated on scene or refused treatment, said Sublette assistant Fire Chief Kevin Schultz. The injury total could still increase, Schultz said.
The Illinois Emergency Management Agency was gathering information on the extent of the storm damage.
"We will be standing by all night in the event there is a request for state help," said spokeswoman Patti Thompson.
Commonwealth Edison reported early Tuesday 14,000 customers were without power as a result of the storm. Ameren was reporting 1,000 customers lost power.
The storms were expected to continue east, with parts of northern Indiana and southern Michigan under a tornado watch early Tuesday.
Michigan also saw stormy weather Monday, when a storm damaged at least four homes near Millington. In Portland, near Lansing, five people had to be rescued from buildings after a tornado hit.