Solar panels and rooftop prayers, yet renewed mosque reclaims traditional role
WHY WE WROTE THIS
In science, research accidents can lead to breakthroughs. And in the life of a mosque in northern Jordan, a setback in a small renovation project led to no less than a reinventing of its place in society.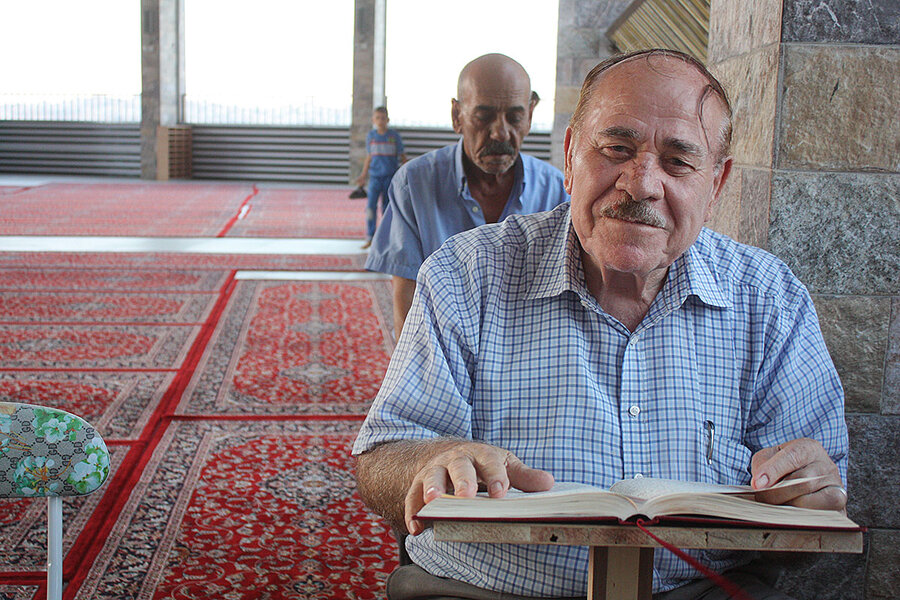 By 

Taylor Luck

 

Correspondent
ZARQA, JORDAN
The teacher writes the equation on the whiteboard in a blue-tip marker, a simple proof in preparation for final exams.
Some two dozen young men in the classroom scribble furiously on their notepads. In a half-hour, they will be taking their science course.
Downstairs, a woman is getting a dental exam, and the final touches are being put on a doctor's clinic and a minor surgery room. Across the way, a group of women are taking a life-skills course. Up on the fifth floor, several men in their sixties and seventies close their eyes and meditate, counting on prayer-beads while feeling the breeze.
This is not a commercial complex, university, or a hospital. This is a mosque. It is what organizers hope will be the future of mosques.
At the Al Arab Mosque in Zarqa, an impoverished city of 1.35 million in northern Jordan that is the country's second-largest, an imam and neighborhood residents have teamed up and embarked on an experiment bringing the mosque's traditional role as a community center into the 21st century.
"People today think that in a mosque you have to be quiet, serious, and strict," says Ahmed Zoubi, imam of the Al Arab Mosque.
"But in the early days of Islam and the time of the prophet it wasn't like that; the mosque was a center for community, a center for life – and all the noise and laughter that came with it."
Most mosques in the Arab world, in contrast to the multi-function Islamic centers in the West and in Southeast Asia, are strictly for one use only: prayer.
Mosques are often shuttered and locked between prayer times; any congregation in prayer halls for any purpose other than Koranic memorization is frowned upon or forbidden.
This comes from a 20th-century legacy of both a weakening of religious institutions by colonial powers and of then-newly independent states which, while seeking to assert their authority, feared the use of mosques as a platform for political activity.
Accidental innovation
When Imam Zoubi first took a sledgehammer to the nearly century-old Arab Mosque in 2014, he did not set out to redefine the mosque-community relationship for the 21st century; he simply wanted a bit of sunshine.
Since being appointed imam of his childhood mosque in Zarqa in 2003, Zoubi had been looking for ways for the mosque to "go green."
By 2014 he had finally raised the funds to install solar panels, but there was one problem: engineers informed him that the mosque, surrounded by high-rise apartment buildings, was partially in the shade at all times. They would only get 25 percent of their solar potential.
Undeterred, Zoubi arrived at a solution: raise one wing of the mosque several meters to place the solar panels.
Yet another twist threw Zoubi's plans awry: when construction workers began tearing down the wing, they discovered that the mosque, built in the 1920s and expanded several times, was a hodgepodge of crumbling construction materials – limestone blocks that were chipped away, mud, and concrete.
Much of it was missing support beams, bolts, and even nails. The entire mosque would have to be rebuilt. And all they had was 2,700 Jordanian dinars, or $3,500, in their budget.
"I was both depressed and shocked," Zoubi says. "I couldn't believe what I had done: I had demolished our mosque and we had no way of putting it back together."
Opening closed doors
When Zoubi had almost given up on saving the mosque, the community stepped in; mosque-goers, neighbors, and business owners, mostly working-class with little savings, all chipped in. Women sold gold and furniture. In a few months they were able to raise 150,000 dinars, more than $194,000.
Humbled by the community's generosity, Zoubi says he wanted to make the mosque reconstruction "count."
"We decided we didn't just want to rebuild a mosque, we wanted to change the perception of mosques in the entire country," Zoubi says.
That perception dated back to the rise of Arab nationalist governments, when religious institutions and the social services they provided were either closed down or marginalized. There would no longer be a role for mosques in education, welfare, healthcare and the economy. These all were now the state's domain.
"Post-independence, the state became the sole actor dominating every sector, there was no longer any room for civil society, particularly religious institutions," says H.A. Hellyer, a senior nonresident fellow at the Atlantic Council and an Islamic studies expert.
With Arab states facing demographic booms, conflict, and economic crises in the 21st century, however, the era of the welfare state is over. There is a void the mosque can fill once again.
Yet they remain shuttered.
"I believe this was an unfortunate loss, as the state cannot be the sole provider forever," says Mr. Hellyer.
The first mosques
In the first years of Islam and in the centuries that followed, mosques were centers of learning and sciences, as well as cultural centers. They offered medical care and would even feed the community.
At the prophet's mosque in Medina, one of the first mosques in Islam, the ahl as suffa – people of purity – poor young men would use the mosque as their full-time residence while they were educated and learned a trade to get back on their feet.
Children were known to play games within the mosque's walls.
It was this history, and the growing needs of working-class communities in the 21st century like his own flock, that inspired Zoubi.
As he set out designing the mosque, Zoubi met with community members to hear about their needs and concerns: difficult access to healthcare, no learning centers or libraries, a lack of public space to take their children.
With these in mind, Zoubi went back with the engineer and designed a mosque specifically tailored to the neighborhood.
A community's needs
Now, Arab Mosque's floor plans and directory read like a checklist of the community's needs.
On the ground floor is a main prayer hall opened throughout the day; a separate entrance leads to medical clinics and a pharmacy. On the second floor is a separate prayer hall with LCD TVs and a place for a sign translator for the hearing disabled to follow Friday sermons. The third floor is an educational and cultural center complete with a library, classrooms, and computer lab. The fourth is an additional Friday prayer hall. At the very top is Zoubi's design: a rooftop prayer room with a panorama view from the highest vantage point for miles around.
It was this last addition from Zoubi that he says aims to provide both spiritual and psychological relief to residents of the congested city.
"Here, people can breathe and relax, look at the views, bring their children, and feel a sense of space and nature," Zoubi says. "And, hopefully, peace within themselves."
At sunset maghreb prayers one Saturday, dozens of local residents stopped to look out from the panorama, many taking photos as the sun set over the desert plains stretching beyond Zarqa's city limits, the orange light casting the sand in shades of pink, violet, and red. Others sat in the corner enjoying the dusk breeze.
For people who want medical attention, the mosque is preparing five medical clinics, a dental clinic, a pharmacy, an emergency room, and a small theater designed for minor surgeries.
Here, any person off the street can be seen by a volunteer doctor or nurse for a symbolic fee of one dinar. Medicine, which is being donated by business owners and Jordanian pharmaceutical companies, will be free.
Wide range of courses
But perhaps the mosque's most popular and most striking feature is its educational and cultural center, which includes a lecture hall with 75 movie theater-style seats and tables, a library, a computer lab, and even a digital projector with a sound system.
While teaching Koranic memorization and hosting personal development classes and anti-extremism lectures (Zarqa was also famous for being the hometown of Abu Musab Al Zarqawi, leader of Al Qaeda in Iraq), the center's main subjects are mathematics, sciences, Arabic, and English.
These courses target teenagers preparing for the comprehensive, year-long admissions test that determines what Jordanian teenagers can study and at which university.
So impressed was King Abdullah on his visit to the mosque in June, he donated a computer lab and paid for an adjacent land plot for the mosque to open a garden. The monarch reportedly said he had "never seen anything like it."