SURPRISE STORM IN SOUTHERN CALIFORNIA COLLAPSES BRIDGE AND SUBDUES WILDFIRE
THE GUARDIAN
Interstate 10 bridge collapse injured one driver and left hundreds stranded
Heavy rains helped contain 60% of rampant wildfire amid historic drought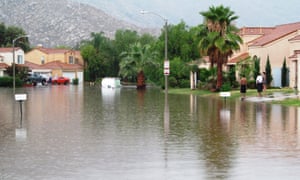 A rare and powerful rainstorm has drenched parched southern California, simultaneously wreaking havoc on major roadways and power lines while helping firefighters gain control of a wildfire that broke out on Friday.
Heavy rains on Saturday and Sunday closed beaches and knocked out power for many southern California residents. The storm rained out a Los Angeles Angels home game for the first time in two decades. The San Diego Padres home game has also been postponed due to inclement weather.
A bridge along Interstate 10, a major freeway connecting southern California and Arizona, washed out on Sunday amid the deluge in the desert. The collapse injured one driver and left hundreds of other cars stranded. It also cut off traffic in both directions, brining travel to a grinding halt.
Terri Kasinga, a spokeswoman for the California Department of Transportation, told the Associated Press that the interstate is closed "completely and indefinitely" and provided no timeframe for when the corridor would be re-opened. She added that crews would begin assessing the damage on Monday.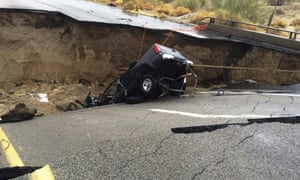 Motorists driving between California and Arizona will be forced to drive hundreds of miles out of their way to take an alternate route.
Meanwhile, the storm helped firefighters contain nearly 60% of a wildfire that destroyed dozens of vehicles and a handful of homes after sweeping across a freeway and barreling into a nearby community.
California is in the midst of a four-year drought, and wildfires are not uncommon. Summer rain in southern California, however, is.
The rainfall set a number of records on Saturday. The 0.36 inch that fell in downtown Los Angeles on Saturday set a record for the most rainfall in July, surpassing the quarter-inch that fell in July 1886, the Los Angeles Times reported.