airbus unveils 'bird of prey' electric aircraft concept with feathered wings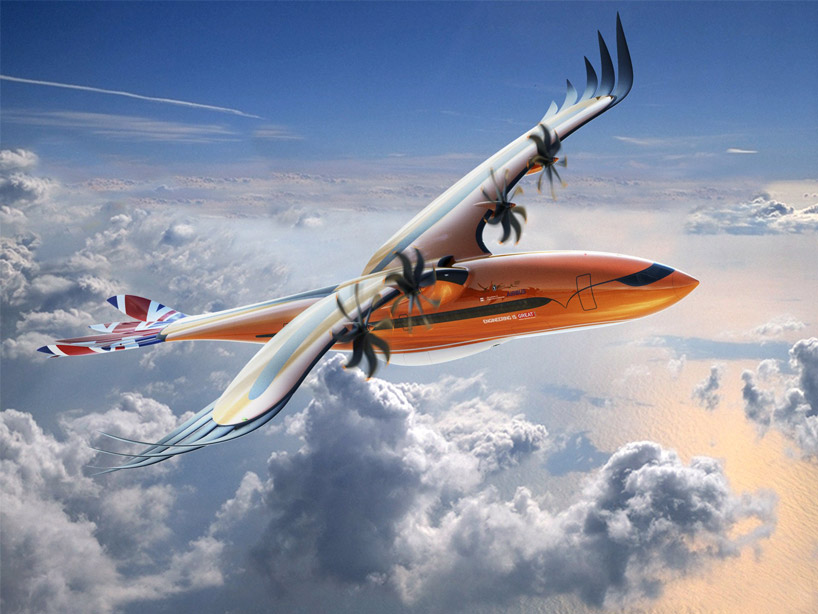 airbus has unveiled a bird-like conceptual airliner design that features feathered wings and a tail. revealed at this week's royal international air tattoo air show in the UK, the airbus 'bird of prey' is a hybrid-electric, turbo-propeller aircraft for regional air transportation.
the 'bird of prey' concept takes into consideration the potential of biomimicry to imagine what a future aircraft could look like. it includes a blended wing-to-fuselage joint that mirrors the graceful and aerodynamic arch of an eagle or falcon. it also tapers like the wing of a bird, ending in a fan-like tail that uses individually controlled feathers for stability.
the concept is part of airbus' attempt to inspire a new generation of aerospace engineers. senior manager at airbus martin aston stresses the importance of the aerospace sector, hoping that big ideas like the 'bird of prey' have the wow factor to attract people.
'one of the priorities for the entire industry is how to make aviation more sustainable – making flying cleaner, greener and quieter than ever before,' says aston. 'we know from our work on the a350 XWB passenger jet that through biomimicry, nature has some of the best lessons we can learn about design.'
the 'bird of prey' concept was introduced on friday with the backing of the GREAT britain campaign, the royal aeronautical society, the air league, the institution of engineering, and the technology and aerospace technology institute. it highlights britain's leading role in the aerospace industry as well as celebrating the 50th anniversary of the airbus group.
project info
company: airbus