Big energy companies operating behind 'smokescreen of sustainability' – GetUp
Report says emissions from Origin Energy and EnergyAustralia have increased by more than 500% and AGL has become Australia's biggest carbon polluter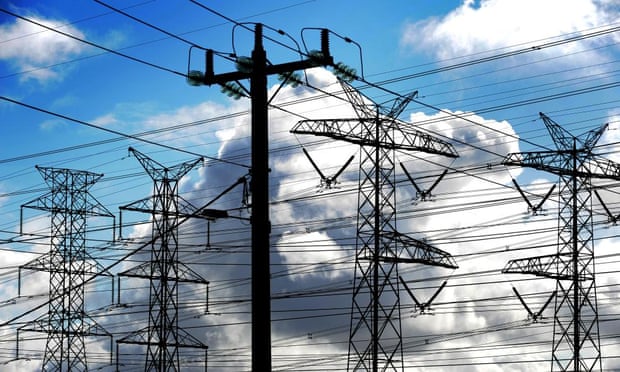 Emissions of toxic pollution by EnergyAustralia and Origin Energy have increased by more than 500% in the past financial year, and AGL has become the country's biggest carbon polluter, a new study claims.
Together the trio account for 13% of Australia's total carbon emissions, according to the report by the activist group GetUp. It claims the companies operate behind a "smokescreen of sustainability" that obscures their reliance on high-pollution power stations and lobbying to reduce the renewable energy target (RET).
Origin described the report on Tuesday as "inaccurate and misleading" and said it did not reflect the company's significant investments in renewable energy projects, or take into account its large share of the national energy market.
By acquiring Macquarie Generation, last year AGL became the country's "worst polluter in terms of carbon emissions", the report said, releasing more than 40m tonnes of carbon dioxide, about 7.5% of Australia's total emissions.
However, of the three companies, AGL generated the highest proportion of its energy from renewable sources. About 11% came from its wind farms, large-scale solar projects and hydroelectricity assets.
By contrast, just under 2% of EnergyAustralia's electricity came from renewable sources, and for Origin, less than 1%, the report said.
Data from the national pollutant inventory showed that EnergyAustralia's emissions of toxic materials increased by more than 500% between 2012-2013 and the following financial year, after it acquired coal-fired power stations in Portland and Wallerawang in NSW.
The pollutants included 1.7m kilograms of particulate matter and 67m kilograms of sulphur dioxide, both of which have been associated with heart disease and lung failure.
EnergyAustralia is also the country's largest emitter of hydrochloric acid, pumping 5.6m kilograms of the toxic substance into the air in 2013-2014, the report said.
Origin's emissions of toxic materials also increase fivefold, and AGL's have jumped by 20 times in the past five years, it added.
All three companies have argued for a reduction in the RET, which the Abbott government has sought to negotiate downwards from the current 41,000 gigawatt hour target.
The target was intended to represent 20% of Australia's energy mix by 2020, but falling demand means it will likely exceed this. Labor supports a reduction of the target to 33,500 GWh. The government has said it will not accept anything higher than 32,000.
GetUp's director of market impacts, James Grugeon, said he hoped the data would help consumers "to start to make informed decisions" about their power provider. About 70% of Australians are customers of the three companies; that figure climbs to about 90% in NSW.
A spokeswoman for Origin said: "Origin takes very seriously the role we play as a leading energy company in helping to progressively reduce emissions, manage the costs to consumers and society, and the need to maintain reliable energy supply to support our economy and standard of living."
A spokeswoman for AGL said the company "recognise[s] that as a large emitter we have a key role to play in seeking to reduce our emissions over time".
"Our emissions profile is balanced by 1,766 megawatts of renewable generation capacity, 17 percent of the total generation portfolio, making AGL the largest ASX listed owner, operator and developer of renewable energy generation in the country. Last year alone our renewable portfolio was responsible for the abatement of 3.4 million tonnes of greenhouse gas emissions," she said.
"With investments in renewables of over $3 billion, AGL's feet of renewable assets will increase further when the 102 megawatts Nyngan and 53 megawatt Broken Hill solar plants are commissioned this year."
EnergyAustralia has been contacted for comment.