Crop failure and bankruptcy threaten farmers as drought grips Europe
Abnormally hot temperatures continue to wreak devastation across northern and central parts of the continent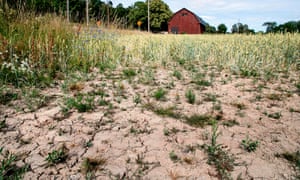 Farmers across northern and central Europe are facing crop failure and bankruptcy as one of the most intense regional droughts in recent memory strengthens its grip.
States of emergency have been declared in Latvia and Lithuania, while the sun continues to bake Swedish fields that have received only 12% of their normal rainfall.
The abnormally hot temperatures – which have topped 30C in the Arctic Circle – are in line with climate change trends, according to the World Meteorological Organization. And as about 50 wildfires rage across Sweden, no respite from the heatwave is yet in sight.
Lennart Nilsson, a 55-year-old cattle farmer from Falkenberg near Malmo and co-chair of the Swedish Farmers Association, said it was the worst drought he had experienced.
"This is really serious," he said. "Most of south-west Sweden hasn't had rain since the first days of May. A very early harvest has started but yields seem to be the lowest for 25 years – 50% lower, or more in some cases – and it is causing severe losses."
If no rain comes soon, Nilsson's association estimates agricultural losses of up to 8bn Swedish kronor (£700m) this year and widespread bankruptcies. The drought would personally cost him around 500,000 kronor (£43,000), Nilsson said, adding that, like most farmers, he is now operating at a loss.
The picture is little different in the Netherlands, where Iris Bouwers, a 25-year-old farmer, said the parched summer had been a "catastrophe" for her farm.
"Older families around me are comparing this to 1976," she said. "My dad can't remember any drought like this."
The Bouwerses expect to lose €100,000 this year after a 30% drop in their potato crop. After investing in a pig stable over the winter, the family have no savings to cover the loss.

Asked what she would do, Bouwers just laughed. "Hope and pray," she said. "There is not much more I can do. I wouldn't talk about bankruptcy yet, but our deficit will be substantial. It probably means we need to have a very good talk with the bank."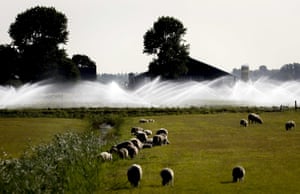 If anything, the situation is even worse in Poland, Belarus and the Czech Republic, where vegetation stress has taken hold. In parts of Germany, some farmers are reportedly destroying arid crops.
After June was declared the second warmest on record, the European commission pledged to help farmers with a raft of measures, including the temporary suspension of "greening" obligations partly intended to prevent climate change.
Farmers who have diversified their crops and invested in irrigation are in a better position to handle extreme weather events, which will become more common as the climate warms. But that is not an option for smallholders with monocultures and little access to irrigation.
Jannes Maes, a small dairy farmer in Flanders and the president of the European council of young farmers, said concerns about insolvent farms were rising but were not the only problem.
"Bankruptcies would be hard," he said, "but the economic loss farmers are suffering is often just as bad because they are hidden bankruptcies that have been prevented by wasting family capital on a farm."
Thomas Duffy, an Irish dairy farmer from County Cavan, said the drought "won't break us, but our feeding costs are 50% higher than last year and all the money we'd normally be putting into improving conditions for the cows and infrastructure is now going to silages [winter feed] and buying forage."
The European Drought Observatory (EDO) has described the drought as "an extensive and severe anomaly" affecting Scandinavia, Scotland, Ireland, the Baltics, the Netherlands and northern Germany.
A spokeswoman for the EU's Joint Research Centre, which oversees the EDO, said farmers should prepare to adapt to a warmer climate with "diversification or change of crop types and varieties, but also a more efficient use of water".
All water-related sectors "should be preparing sustainable adaptation measures towards an increase of drought frequency and intensity in the future", she said.