CUTTING CARBON EMISSIONS COULD SAVE LIVES SOONER THAN YOU MAY THINK
It could save up to 175,000 people in the U.S. — and $250 billion — by 2030.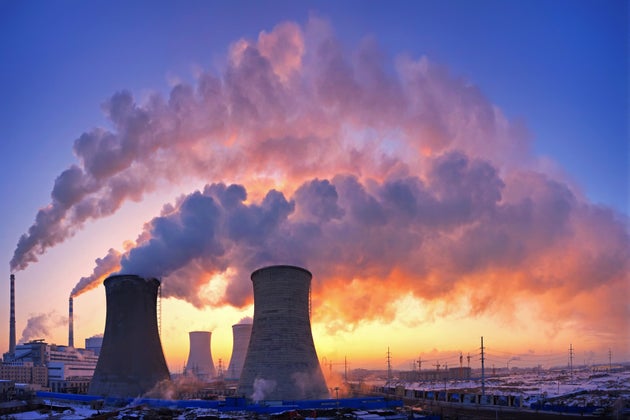 zhuyongming via Getty Images
Slashing carbon emissions won't just ease global warming. It could also save thousands of lives in the U.S. by drastically reducing deaths caused by air pollution.
The cuts in carbon emissions needed to limit the rise of global temperatures to 2 degrees Celsius (or 3.6 degrees Fahrenheit) would significantly reduce other kinds of air pollution, according to a new study by researchers at Duke University and the NASA Goddard Institute for Space Studies.
The study, published Monday in Nature Climate Change, showed that these cuts in pollution could prevent the premature deaths of up to 175,000 people in the U.S. by 2030 and save around $250 billion annually in associated health costs.
The new research sheds light on how tackling climate change can result in not only long-term benefits, but can also address health issues in the short term, said Drew Shindell, professor of climate sciences at Duke and lead author of the study.
"Many people view climate change as a future problem, but our analysis shows that reducing emissions that cause warming — many of which also contribute to air pollution — would benefit public health here and now," he said in a statement.
The health and economic benefits associated with easing global warming could sway people's priorities, Rachel Cleetus, lead economist and climate policy manager at the Union of Concerned Scientists, who was not involved in the study, told The Huffington Post on Tuesday.
There are now "very good here-and-now public health reasons to make the shift to cleaner energy," she said.
Reducing carbon emissions — especially from power plants and vehicles — prevents other pollutants, such as sulfur oxides, mercury and lead, from spewing into the atmosphere. Shindell and his research team calculated how much emissions from these co-pollutants would decrease if the U.S. were to slash carbon emissions in the transportation and energy sectors by 75 and 63 percent, respectively.
The researchers then calculated the number of premature deaths caused by those co-pollutants each year by looking at medical data documenting the links between chemical exposure and death. Using that data, researchers were able to figure out how many deaths from air pollution could be avoided under their emissions reduction scenarios.
They found that cutting emissions from transportation by 75 percent could prevent up to 120,000 premature deaths by 2030. Reducing emissions from energy production by 63 percent could prevent up to 175,000 deaths over the same period.
The researchers also found that preventing these early deaths would save the country around $250 billion in public health costs every year. When the global health and climate effects of reduced emissions are taken into account, the long-term savings would roughly quintuple, according to a press release.
The cost of clean energy transition starts to pale compared to the benefits. Rachel Cleetus, Union of Concerned Scientists
The study employed the same methodology used by the EPA in its analysis of President Barack Obama's Clean Power Plan. The EPA and this new study both confirm research that was published last year in Nature Climate Change showing that reducing carbon emissions from U.S. power plants would likely improve public health.
The new study is "very consistent with what other studies show: shifting away from fossil fuels has huge public health co-benefits in addition to the climate benefits," Cleetus said.
But securing those health benefits will be difficult, Shindell told HuffPost.
"We would need enormous national will to change the way we get energy and provide transportation services," he said. "But it could really be done if we wanted to do this."
In the long run, the advantages of moving away from fossil fuels outweigh the costs, according to Cleetus. That's because while fossil fuels appear cheap, they contain what Cleetus calls "disguised costs."
"When we do a true calculation for public health costs, we realize it's a different equation," Cleetus said. "The cost of clean energy transition starts to pale compared to the benefits."