EAST COAST BRACES FOR FRESH CLIMATE FIGHT AS TRUMP EYES MORE OFFSHORE DRILLING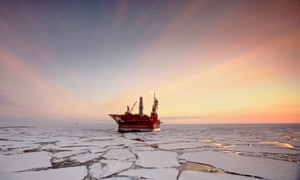 Communities along the east coast are steeling themselves for a fresh round of angst and protest over offshore drilling, with Donald Trump set to throw open vast swaths of the Atlantic seaboard to oil and gas companies.
On Friday, the president signed an executive order that asks the interior department to review offshore areas potentially rich in fossil fuels that were put out of reach of drilling by Barack Obama's administration.
At the signing of the order, Trump said: "It's a great day for America workers, unleashing American energy and clearing the way for thousands and thousands of high-paying American energy jobs. Our country is blessed with incredible natural resources, including abundant offshore oil and natural gas reserves."
Asked about his first 100 days in office, which Trump has admitted has been harder than he expected, the president said: "We're moving awfully well. We're getting a lot of things done. We are, I don't think there's ever been anything like this.
"It's a false standard, 100 days, but I have to tell you, I don't think anybody has done what we've been able to do in 100 days, so we're very happy."
In a briefing with journalists, Ryan Zinke, the US secretary of the interior, said: "This order will cement our nation's position as a global energy leader and foster energy security for the benefit of American people, without removing any of the stringent environmental safeguards that are currently in place."
The review will scrutinize plots in the Atlantic, Arctic and Pacific that the Obama administration said would not be made available for drilling until at least 2022. In the final weeks of his presidency, Obama announced what he called a permanent ban on drilling along much of Alaska's coast as well as the ocean floor from Virginia to Maine.
Trump is now taking the first steps to undo this, setting up a confrontation with environmentalists and residents concerned about the impact upon wildlife and the potentially ruinous economic consequences of a Deepwater Horizon-level oil spill.
Environmental groups immediately pledged to fight any repeal of protections for the Atlantic and Arctic Oceans.
"Trump's shortsighted order reverses climate progress and imperils coastal communities, irreplaceable wildlife, and our shared future," said Trip Van Noppen, president of Earthjustice.
"It is also against the law. We will go to court to enforce the law and ensure President Obama's protections remain in place."
"The movement against this drilling never died, it just went into a lower gear," said Phil Odom, a commissioner for Liberty County on Georgia's coast. A former commercial fisherman, Odom said the "geological marvel" of Georgia's coastline – it has 15 barrier islands and large expanses of untouched marshlands – would be in severe danger from any oil spill.
"Most of the people in the coastal region do not see the necessity of it, they see what's happened to the coastlines of Louisiana and Texas. We don't want that.
"There are a whole lot of fishermen, hoteliers and others who will be speaking up like they did against the last administration. I have no idea if this administration will listen, but we will have to try."
Unlike the Gulf of Mexico and the Pacific coastline, there has never been commercial oil or gas drilling off the Atlantic coast. More than 120 coastal municipalities registered their horror when the Obama administration toyed with the idea of leasing out nearly 104m acres of the Atlantic, stretching from Maryland to Georgia, only to reverse course in the face of the public uproar and concern from the Pentagon over potential disturbance to military operations.
Trump, who has promised to "unleash American energy", has already reopened the door to coalmining on federal land and pushed to speed up environmental approvals for large fossil fuel projects such as the Keystone and Dakota Access pipelines. Those along the Atlantic coast fear their relatively untouched vistas will be next.
Larry Cahoon, an oceanographer at the University of North Carolina, recalled the panic that the 2010 BP Deepwater Horizon spill would result in oil seeping around Florida and up the mid-Atlantic coast.
"We had people canceling vacation reservations in North Carolina because they saw a video on the news that showed the oil reaching that far," he said. "Of course that never actually happened, the winds were all wrong, but it put people in a panic. So if we actually had a spill off this coast, it would be catastrophic for the economy here.
"We've benefited from the misfortunes in other states because people think our beaches are pristine, which they are. That would be severely damaged by any spill."
The current federal offshore drilling plan rules out any drilling within 50 miles of the coast, despite the lobbying of some states to allow activity closer to shore. Cahoon said if the Trump administration relaxed the 50-mile limit it would be a "virtual certainty" that oil from a spill would stain North Carolina's beaches.
"If they blow past that limit, there will be a firestorm of opposition," he said. "If people start seeing oil rigs from the beach there will be severe blowback."
The potential consequences for wildlife could be severe. North Carolina's Cape Hattaras has an area where the the Gulf Stream current crashes into the mid-Atlantic current, a mix that supports an abundance of biodiversity – dozens of types of seabird, 20 species of marine mammals and a population of bluefin tuna, the latter being highly prized by fishermen.
This location is also considered one of the most promising areas for natural gas and even testing the area for deposits has raised concern over the impact upon marine creatures. Whales, including the endangered North Atlantic right whale, traverse along the coast to feed and breed and they, along with dolphins and fish, rely heavily upon sound to navigate.
Seismic airgun blasting, where pulses of sound are fired at the seabed to ascertain if caches of fossil fuels lie beneath, has the potential to severely disrupt the echolocation used by these animals, scientists say. The Obama administration denied all seismic airgun permits along the Atlantic but this situation, too, may change under the new presidency.
Any new drilling is unlikely in the short term, at least. Revising the Bureau of Ocean Energy Management's five-year plan would involve a lengthy, bitterly opposed process. And even if leases are made available in the Atlantic, any permit for drilling would require a separate environmental study before any approval is granted.
The economics of opening up a new frontier for oil is currently unfavorable, with a barrel of crude currently trading for under $50. The strong currents and crashing waves of the Atlantic provide a further logistical hurdle. "Compared to the Atlantic, the Gulf of Mexico is a lake," said Cahoon. "Yes, you can engineer your way around that but the question would be 'is it worth it?'"
However, the petroleum industry would still like the option to drill. Market conditions could become more favorable over the course of a lease period and an untapped oil-rich area would be highly prized.
"We're not going to sit here and say that companies are going to want to go out and drill tomorrow in the Pacific and the Atlantic," Erik Milito, policy director at the American Petroleum Institute, told Bloomberg News.
"It is important to keep options open for the long term, so companies can start planning for and determining where the best prospects are and then make those investments the global economy will require over time."
Should this come to pass, environmentalists should be ready. Green groups have already begun lobbying of members of Congress as both sides of the issue start to relitigate arguments over jobs, safety and environmental protection.
"We've fought this before and we will fight it again," said Nancy Pyne, a campaigner at marine conservation group Oceana. "We don't want to industrialize our coasts and risk oil spills. I fully expect if Trump goes after the Atlantic, those same people living along the coast will go after him."