GRASSROOTS POWER STALLS TRUMPCARE
March 23rd, the seventh anniversary of the Affordable Care Act (ACA), turned into a better day for the people of Lancaster, Pennsylvania, than it was for House Speaker Paul Ryan, President Donald Trump, and our congressman, Rep. Lloyd Smucker.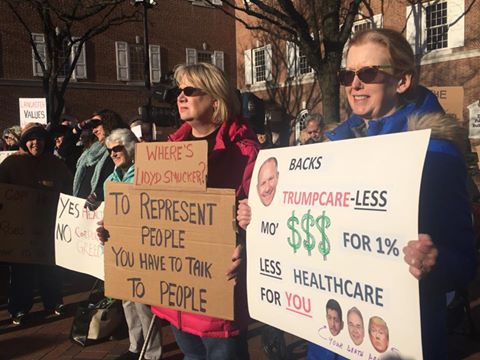 While the politicians in Washington were scuttling the vote on their disastrous health care repeal plan, more than two hundred of us gathered in Penn Square to demand health care for all in an event organized by Keystone Progress, Lancaster Stands Up, and LCDC Rapid Response Team for Healthcare.
We were both celebratory and defiant, knowing we'd stopped the House from voting away our health care, for at least for one day. But we also know Congress will soon be back to trade our lives for a tax break for the richest two percent of the country.
And we'll be fighting for them every step of the way, demanding health care for all of us.
That includes small business owner Mike Simmons, who credits the ACA with allowing him to open his business, a management accounting firm that has expanded fivefold in three years.
He'd owned a business before, a bakery, but lost it when he got cancer, then wound up uninsured. For five years, he managed a supermarket grocery, a job he didn't want. But he was trapped because he couldn't get insurance otherwise. He signed up for ACA coverage on day one, which freed him to start the business he and his wife own now.
Then came the election, and he became not only a business owner but also a "rabble-rouser."
"It's the first time I'd been compelled to get out," he says. "I didn't feel like I could shut up anymore."
It's pressure from people like Mike and all those gathered in Penn Square that stopped the repeal vote – on a 'wealth care' bill that plunders our health care, pushing 24 million people off coverage to give a $465 billion tax break for the rich and corporations.
The Republicans' health care repeal bill would force 44,200 of Smucker's constituents off their health care by 2026, most of them pushed out of Medicaid. In Lancaster County, more than 17,000 people were insured by the Medicaid expansion by the end of 2015, with 89,347 enrolled overall – that's 17 percent of the county population who could have their health care taken from them just so Congress can fund a massive tax break.
In our county, a forty-year-old with annual income of $30,000 would see their premiums almost double, spiking from $2,480 a year to $4,520, according to the Kaiser Family Foundation. Premiums would shoot up 604% for a 60-year-old, hitting $17,460.
Yet Lloyd Smucker has said he'll vote for this legislation.
Here's what Smucker should know: Lancaster won't stand for politicians turning their backs on us and telling us they really don't care whether we live or die.
One of the Lancastrians is Nelly Torres. During her first semester in college, she started getting debilitating migraines. "I quickly became humbled by illness," she says. "I became somebody I didn't recognize. I became guinea pig in a doctor's office."
The day before a tumor operation, her mother's insurer dropped her. They went forward with the operation anyway, terrified about the cost. "That's a horrible feeling," she says – a feeling no one should have to experience.
"I'm scared to read the news," she says. "I'm filled with anxiety and dread with how this is going to affect me and people I know and don't know."
"I'm not saying the Affordable Care Act it perfect, but the conversation shouldn't be taking away health care. It should be moving toward universal health care."
We were far from alone. Yesterday, we joined people and People's Action organizations around the country. That includes members of Maine People's Alliance in Lewiston, leaders with New Jersey Citizen Action in towns across the state, and leaders with our sister organizations from Tennessee to Washington.
Before our rally yesterday, Nelly Torres says she wasn't feeling well, but nothing was going to stop her from showing up and fighting back. Yesterday, Lancaster fought with her, and we're going to keep on fighting.
Rafael Diaz is an organizer for Keystone Progress, a People's Action affiliate