IT MAY ONLY TAKE 3.5% OF THE POPULATION TO TOPPLE A DICTATOR — WITH CIVIL RESISTANCE
The United States has a rich history with effective uses of nonviolent resistance. It's time to become familiar with it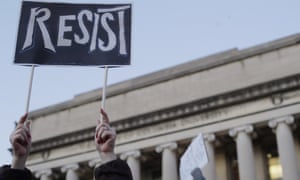 Many people across the United States are despondent about the new president – and the threat to democracy his rise could represent. But they shouldn't be. At no time in recorded history have people been more equipped to effectively resist injustice using civil resistance.
Today, those seeking knowledge about the theory and practice of civil resistance can find a wealth of information at their fingertips. In virtually any language, one can find training manuals, strategy-building tools, facilitation guides and documentation about successes and mistakes of past nonviolent campaigns.
Material is available in many formats, including graphic novels, e-classes, films and documentaries, scholarly books, novels, websites, research monographs, research inventories, and children's books. And of course, the world is full of experienced activists with wisdom to share.
The United States has its own rich history – past and present – of effective uses of nonviolent resistance. The technique established alternative institutions like economic cooperatives, alternative courts and an underground constitutional convention in the American colonies resulting in the declaration of independence. In 20th century, strategic nonviolent resistance has won voting rights for women and for African Americans living in the Jim Crow south.
Nonviolent resistance has empowered the labor movement, closed down or cancelled dozens of nuclear plants, protected farm workers from abuse in California, motivated the recognition of Aids patients as worthy of access to life-saving treatment, protected free speech, put climate reform on the agenda, given reprieve to Dreamers, raised awareness about economic inequality, changed the conversation about systemic racism and black lives and stalled construction of an oil pipeline on indigenous lands in Standing Rock.
In fact, it is hard to identify a progressive cause in the United States that has advanced without a civil resistance movement behind it.
This does not mean nonviolent resistance always works. Of course it does not, and short-term setbacks are common too. But long-term change never comes with submission, resignation, or despair about the inevitability and intractability of the status quo.
And among the different types of dissent available (armed insurrection or combining armed and unarmed action), nonviolent resistance has historically been the most effective. Compared with armed struggle, whose romanticized allure obscures its staggering costs, nonviolent resistance has actually been the quickest, least costly, and safest way to struggle. Moreover, civil resistance is recognized as a fundamental human right under international law.
Nonviolent resistance does not happen overnight or automatically. It requires an informed and prepared public, keen to the strategy and dynamics of its political power. Although nonviolent campaigns often begin with a committed and experienced core, successful ones enlarge the diversity of participants, maintain nonviolent discipline and expand the types of nonviolent actions they use.
They constantly increase their base of supporters, build coalitions, leverage social networks, and generate connections with those in the opponent's network who may be ambivalent about cooperating with oppressive policies.
Crucially, nonviolent resistance works not by melting the heart of the opponent but by constraining their options. A leader and his inner circle cannot pass and implement policies alone. They require cooperation and obedience from many people to carry out plans and policies.
In the US on Tuesday, dozens of lawmakers have said they will boycott confirmation votes for Trump nominees. Numerous police departments countrywide have announced that they will not comply with unethical federal policies (particularly regarding deportations). And the federal government employs more than 3 million civil servants – people on whose continued support the US government relies to implement its policies. Many such civil servants have already begun important conversations about how to dissent from within the administration. They, too, provide an important check on power.
The Women's March on Washington and its affiliated marches – which may have been the largest single-day demonstration in US history – show a population eager and willing to show up to defend their rights.
Of course, nonviolent resistance often evokes brutality by the government, especially as campaigns escalate their demands and use more disruptive techniques. But historical data shows that when campaigns are able to prepare, train, and remain resilient, they often succeed regardless of whether the government uses violence against them.
Historical studies suggest that it takes 3.5% of a population engaged in sustained nonviolent resistance to topple brutal dictatorships. If that can be true in Chile under Gen Pinochet and Serbia under Milosevic, a few million Americans could prevent their elected government from adopting inhumane, unfair, destructive or oppressive policies – should such drastic measures ever be needed.
Erica Chenoweth is the co-author of Why Civil Resistance Works: The Strategic Logic of Nonviolent Conflict