LABOR RAISES 'PHILOSOPHICAL' CONCERNS OVER VACCINATION REGISTER OUTSOURCING
Concerns are part of campaign against Coalition's 'privatisation agenda', says Labor, rather than arising from fears of misuse of school children's information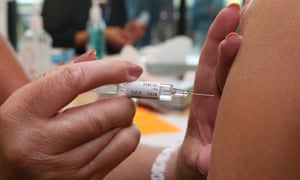 Labor has sounded the alarm about plans to outsource the running of Australia's school vaccination register to a for-profit company.
The shadow health minister, Catherine King, has raised the vaccination register as part of its campaign against the Coalition government's "privatisation agenda".
But a Labor spokesman has told Guardian Australia its objection is "philosophical" rather than arising from fears of misuse of information.
From 2017 the national cervical cancer vaccination register will be expanded to become the Australian school vaccination register, which will capture all adolescent vaccinations given through school programs.
The register is currently run by the Victorian Cytology Service, a not-for-profit health organisation.
The government has issued a tender for organisations to bid to run the register, which Labor has warned "could mean that, for the first time, the vaccination details of school children could be in for-profit hands".
It follows Telstra being awarded a contract in May to run the register for Australians' cancer screening records.
King said: "Nobody believes Malcolm Turnbull when he says he won't privatise Medicare. He is already selling off important health functions. This is just the beginning of his privatisation agenda.
"The Australian school vaccination register should only be run by government or a not-for-profit organisation."
A Labor spokesman said it wanted to protect sensitive information, but it was not alleging for-profit companies would misuse the information.
He said selling off the register may mean the government has to pay to get access to vaccination data.
"If government agencies want to run public health campaigns due to low vaccination rates – does the government have to pay to access that data?"
"It's a philosophical position. It's all about the fact Labor feels functions like this should be done by government, for privacy reasons," he said.
A Coalition spokeswoman told Guardian Australia the government does not have to pay to access information on the register, and this would not change when a tender contract is awarded.
On Thursday the energy minister, Josh Frydenberg, told ABC the vaccination register issue was "just another scare campaign from the Labor party".
"We saw just the other day them saying that we're going to privatise Medicare," he said. Frydenberg said Labor's claims of privatising Medicare had been contradicted by the Australian Medical Association president, Michael Gannon.
On Wednesday Gannon said handing over Medicare payments to the private sector does not equate to privatisation, contradicting comments made by the opposition leader, Bill Shorten.
"The prime minister has made it absolutely clear in every statement that he's made that we are going to retain within government that capability to deliver [health services]," Frydenberg said.
The Turnbull government has ditched the idea of outsourcing the Medicare payments system to head off an intensifying Labor attack claiming his government will privatise Medicare itself.
---