'Magical' mushroom mix to boost regrowth of lost Scottish forests
Return of Great Caledonian forest speeded up with fungi spores to help saplings flourish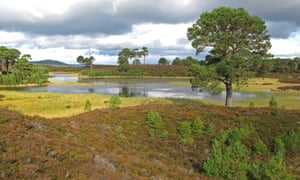 The return of the Great Caledonian forest that once covered much of Scotland's highlands is being boosted with a special mix of mushroom spores that should help saplings survive better on the hills.
Fungi living on the roots of trees play a vital role in the ecology, helping to break down nutrients in the soil. But trees were lost in much of the Highlands many years ago so the fungi vanished too.
The new project, run by Trees for Life, is adding the spores when young trees are planted.
"In the tough, windswept, environments where we plant, newly planted trees need all the help they can get – especially in their early years," said Doug Gilbert, from the charity, at the Dundreggan estate in Glenmoriston, near Loch Ness. "This magical mushroom mixture could speed up the return of the Caledonian forest and its wildlife."
Trees for Life have planted 1.5m native trees in Glenmoriston and nearby Glen Affric since being founded 30 years ago. The new forests being established by Trees for Life allow wildlife to thrive, including pine martens and eagles. The group plants about 130,000 saplings a year, from 30 species including Scots pine, oak, birch, rowan, hazel and juniper.
This year 20,000 saplings to be planted will have a pinch of the special root fungi, or mycorrhizae, added to their roots.
The trees' survival rate will then be compared with those planted without the fungi. While the use of mycorrhizae to boost plants is relatively new, it is known that young trees inoculated with the fungi suffer much less from the shock of planting.
"Mycorrhizal fungi are one of our greatest allies for reforesting degraded landscapes," said Jacob Whitson, who runs Chaos Fungorum, a business that supplies native fungi mixes for trees, and which collected the spores for Dundreggan.
Experts have praised the move, with Matthew Cromey, from the Royal Horticultural Society, saying: "Having an active mycorrhizal system is very important, so it is potentially a real benefit adding them back again."
The fungi, which produce mushrooms above ground in the autumn, were collected from a patch of primeval forest that has survived on the Dundreggan estate. Almost 60 different species ended up in the mix being applied.
"For a rewilding charity, which is very particular about what we plant, we didn't want to introduce foreign fungal species," said Emma Beckinsale, who works in the Trees for Life nursery. She said using the fungi might also mean that artificial fertiliser would no longer be needed. "It would be much better if we didn't have to do that."
Cromey said using the fungi mix in the nursery might be even better. "I would expect that application to seedlings is more likely to give them a benefit. If they already have the mycorrhizae present when they are planted they have got a head start." Dundreggan is also trialling this approach this year.
Work to reforest Scotland have faced opposition from some groups. Supporters of deer, grouse and pheasant shooting have opposed tree planting on open moors, and some mountaineering groups are worried a loss of "dramatic open views and vistas".
But Beckinsale said Trees for Life aimed to maximise wildlife, which meant variety. "We want to create a diverse habitat, a mosaic of forest, bog and open spaces. Any change feels unsettling, but we are having better and better conversations with the local community." Deer and grouse naturally lived in woodland, she added.