MOSCOW AND ANKARA PRESENT UNITED FRONT AFTER RUSSIAN AMBASSADOR'S MURDER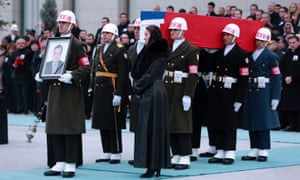 Russia and Turkey put on a united front on Tuesday, insisting that the killing of Moscow's ambassador in Ankara would not affect bilateral relations, or cooperation over Syria.
The Turkish foreign and defence ministers joined their Russian and Iranian counterparts in Moscow, where the three countries said they had started work on a new plan to resolve the Syrian conflict.
The body of Andrei Karlov was flown back to Russia after a ceremony at Ankara airport attended by senior Turkish officials and presided over by a Russian Orthodox priest.
The parents, sister, roommate and two other relatives of the gunman, named as off-duty riot police officer Mevlut Mert Altıntas, 22, were being questioned by Turkish authorities. A team of 18 Russian investigators arrived in the country to work on a joint probe into the killing.
Karlov was shot multiple times by Altıntas on Monday evening, during the opening of a photography exhibition at a gallery in the Turkish capital. Altıntas was shot by police at the scene.
While some initially feared a downward spiral in relations similar to the aftermath of Turkey shooting down a Russian fighter jet in late 2015, officials from both countries were quick to stress their desire for cooperation in the aftermath of the attack. Instead, both countries emphasised their joint work on Syria and said they were committed to fighting terrorism.
Vladimir Putin called Karlov's murder a "provocation" aimed at undermining improved relations between the two countries and their efforts to resolve the conflict in Syria. "There can be only one answer to this: stepping up the fight against terrorism, and the bandits will feel this," said the Russian president.
The Turkish foreign minister, Mevlüt Çavuşoğlu, paid his respects to Karlov in Moscow. "Both sides understand that this low act will not harm our relations, we will do everything to make sure of that," he said.
Turkish officials suggested Altıntas had ties to the movement led by Fethullah Gülen, a US-based preacher whose group is widely believed in Turkey to have masterminded a coup attempt in July.