Senate Cuts Deal To Pass Obama's Secretive Trade Bills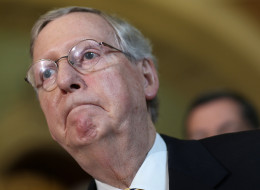 WASHINGTON — Senate leaders reached a deal Wednesday to push ahead with votes on President Barack Obama's trade deals.
The agreement came after Democrats blew up an earlier agreement Tuesday over fears that key measures they have sponsored would fail, or never get votes.
But Senate Majority Leader Mitch McConnell (R-Ky.) announced Wednesday afternoon that leaders had found a way around the impasse by agreeing to let Democrats have votes on key trade enforcement measures before holding votes on the fast-track authority that Obama needs to finish new massive trade deals with Pacific Rim countries and Europe.
"I think that we've come up with something that is fair," Senate Minority Leader Harry Reid (D-Nev.) said.
McConnell called the agreement "serious and bipartisan," and said it gave a chance for trade legislation to proceed without allowing "poison pills" to be attached to the legislation.
Under the agreement, the Senate will vote Thursday on an African trade deal, and then a customs and enforcement measure that includes many of the trade protections Democrats feared would be lost, including a provision that targets currency manipulation by China and trading partners.
"The announcement today will drive home the importance of the message that the pro-trade Democrats sent yesterday," said Sen. Ron Wyden (D-Ore.), who helped craft the compromise after he helped filibuster the trade bill that he supports. "That enforcement, enforcement of the trade laws is a prerequisite to a modern trade policy, a trade policy that sets aside once and for all the NAFTA playbook. Suffice it to say that was the message conveyed yesterday by pro-trade Democrats."
After voting on the Africa and enforcement measures, the Senate will return to the debate on the fast-track legislation.
Democrats' initial offer was to vote on a standalone currency manipulation bill, and a package that included Trade Promotion Authority, as fast track is known, assistance for workers displaced by trade and the customs enforcement bill. It was turned down by Republicans earlier Wednesday.
After nearly 24 hours of negotiation following Tuesday's failed vote, Democrats ultimately accepted the counteroffer crafted by Republicans.
Some Democrats had hoped that a package of four trade bills would all proceed together, ensuring that Obama could not get his fast-track authority unless they got their enforcement measures. It would also guard against any veto threats.
But Sen. Sherrod Brown (D-Ohio), who led the Tuesday filibuster, said the deal was good enough.
"I understand that all four aren't going to be together exactly the way I want it, I understand that," Brown said. "But I can read votes. I also think that nobody saw us being successful yesterday three days out. And people have strong feelings about the customs enforcement and people have strong feelings about taking care of workers."