SOLAR-POWERED AIRPLANE IS ABOUT TO MAKE HISTORY
Aviation history is in the making — no fossil fuels necessary.
Solar Impulse 2, the revolutionary airplane powered exclusively by sunlight, is about to depart on the longest leg of its around-the-world journey.
The 4,000-mile flight from Japan to Hawaii will kick off as soon as weather permits. Because the aircraft's maximum speed is only 90 mph and it typically flies even slower to conserve energy, the non-stop journey is predicted to take four to five days. A Boeing 777, with a top speed of around 600 mph, can make the trip in about 8.5 hours.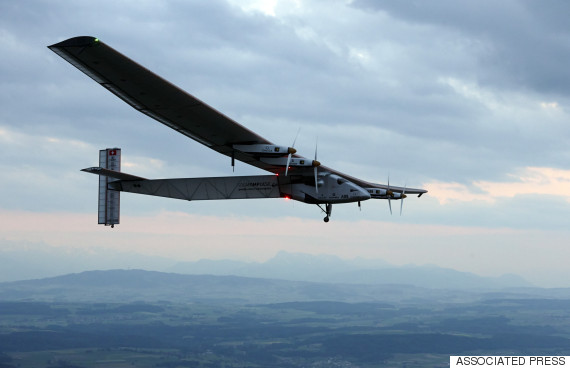 The Solar Impulse 2's maiden flight.
Solar Impulse 2 is mostly made of carbon fiber. It has 17,248 solar cells on the wings that recharge four lithium polymer batteries. It is extremely light at 5,070 pounds, about the weight of a Ford Explorer, but has a 236-foot wingspan, which generates enough lift to maintain flight over long periods of time.
André Borschberg, co-founder of Solar Impulse, will pilot the single-seat aircraft for this leg of the flight. He'll be permitted 20-minute naps throughout the multi-day flight, during which an extensive team on the ground will monitor progress.
The trip to Hawaii was attempted in late May, but was aborted mid-flight due to precarious weather. Solar Impulse 2 made an emergency landing in Nagoya, Japan, where a wing was slightly damaged by strong winds.
Solar Impulse 2 can fly at night because of its battery storage technology. It needs relatively sunny skies during the day and low winds.
Solar flight may seem slow, expensive, and downright impractical at this point, but Borschberg and co-founder Bertrand Piccard said they see the project as a lofty jumping-off point for more eco-friendly travel.
After founding the project in 2003, they set out to change the face of modern aviation.
"It's really to show what we can do with renewable energies," Piccard told The Verge. "This is really the vision I had in the beginning, to do something extremely difficult, something that people would consider impossible."
The around-the-world journey began in the United Arab Emirates on March 9, 2015, and is expected to be completed in July or August with a return to the UAE.
Whatever the result, the plane itself is indisputably cool. See for yourself: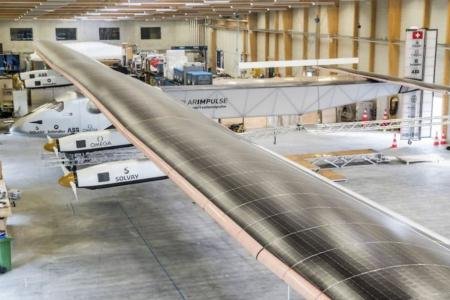 Facebook/solarimpulse