STATE DEPT. QUIETLY LIFTS DONALD TRUMP'S RESTRICTION ON NUMBER OF REFUGEES ALLOWED TO ENTER THE U.S.
 IF THIS WAS THIS A STATE DEPARTMENT DECISION, THEN WHO IS RUNNING THE COUNTRY?  NOT TRUMP.  TIME TO WAKE UP EVERYONE – LOOKS "COUPISH" TO ME!  CCD
It could double the new of refugees entering the country, according to advocates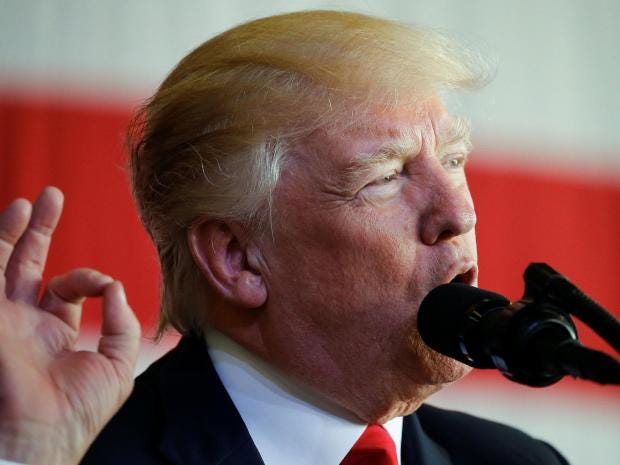 The State Department has quietly lifted Donald Trump's restriction on the number of refugees allowed to enter the United States.
Mr Trump has sought to reduce the number of refugees allowed into the US annually from 110,000 to 50,000, and had signed an executive order suspending all refugee admissions for 120 days.
But the State Department has lifted its restriction on how many refugees are allowed to enter, with Jennifer Smith, a department official, notifying refugee groups in an email they could now begin bringing people to the US "unconstrained by the weekly quotas that were in place."

Refugee advocates told The New York Times it could double the number of refugees entering the country, from around 830 a week in the first three weeks of this month to over 1,500 a week by next month.
Although the restrictions were lifted on the same day a federal appeals court upheld a block on Mr Trump's travel ban, the decision is not related to the ruling, the paper said.
Congress passed a spending bill last summer which tightly constrained the State Department's refugee resettlement programme's budget.
But the latest spending bill, passed earlier this month, does not impose a limit on refugee administrations.
An anonymous State Department spokeswoman told the paper the department had consulted the Department of Justice about its refugee quotas and had decided to adjust them.
While federal judges have ordered a block on Mr Trump's refugee limits, refugee admission rates have dropped regardless.
There were roughly one-third the number of refugee arrivals in April compared to last October, according to State Department data analysed by the Pew Research Centre.
"This decline has been felt by 46 of the 50 states, and only four states had a higher number of refugees in April 2017 than they had in October 2016", Phillip Connor, a research associate at Pew, said.
"What is significant here is that we had a decline nationally for the first five months straight of the fiscal year, which is the longest consecutive decrease on record".