Storms move across US as warnings remain in several states
Tornado hits South Dakota as snow falls in Nebraska
Travel delays in Texas but tropical storm weakens in the Carolinas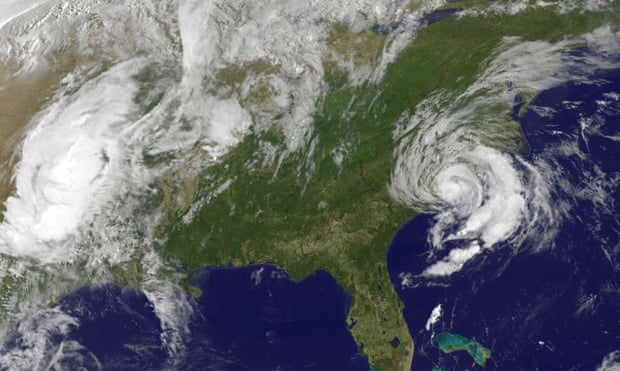 It was among several states in the path of severe weather forecast for the Great Plains and the midwest. At the same time, a tropical storm came ashore in the Carolinas and wintry weather also affected parts of Colorado.
Tropical Storm Ana made landfall near Myrtle Beach, South Carolina, on Sunday morning and was weakening with top sustained winds of 35 mph.
In South Dakota, National Weather Service meteorologist Philip Schumacher said law enforcement reported a tornado about 10.45 am Sunday in Delmont – about 90 miles from Sioux Falls. No deaths were immediately reported, Schumacher said. No injuries had been reported, either, according to South Dakota Department of Public Safety spokesman Tony Mangan.
In North Texas, sparsely populated ranching and farming communities were left to clean up from Saturday's tornadoes that left one person dead and another in critical condition, authorities said. Cisco fire department spokesman Philip Truett said the two people were near each other when the tornado struck.
At least six buildings were damaged south of Cisco, which is about 100 miles west of Fort Worth, as well as six others near Lake Leon, Truett said.
"The homes that I've seen, there are just maybe one or two walls standing," Eastland County judge Rex Fields, who also serves as the county's emergency services coordinator, told the Associated Press on Saturday.
A strong line of storms moved through the Dallas-Fort Worth area Sunday morning, forcing significant delays and a total of 100 flight cancellations at Dallas-Fort Worth International Airport and Dallas Love Field Airport.
The storms moved into Oklahoma and Arkansas in the late morning, and forecasters issued tornado watches through Sunday evening for parts of Texas, Oklahoma, Arkansas, Iowa, South Dakota, Nebraska and Minnesota.
Farther north, a late-season snow fell in parts of the Rockies, western Nebraska and western South Dakota.
National Weather Service meteorologist Kyle Carstens said between 10in to 18in of snow was on the ground Sunday morning in the Black Hills, and totals could reach 20-24in by the time the system moves out. Rapid City, South Dakota, had 8-11in, accompanied by 20-30 mph winds.
Nearly 18in of snow fell in southern Colorado, a state that also saw hail, flooding and tornado warnings over the weekend.