THE WORLD'S LARGEST CRUISE SHIP AND ITS SUPERSIZED POLLUTION PROBLEM
As Harmony of the Seas sets sail from Southampton docks on Sunday she will leave behind a trail of pollution – a toxic problem that is growing as the cruise industry and its ships get ever bigger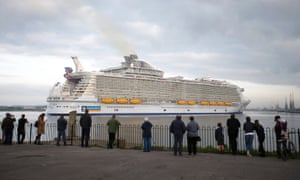 When the gargantuan Harmony of the Seas slips out of Southampton docks on Sunday afternoon on its first commercial voyage, the 16-deck-high floating city will switch off its auxiliary engines, fire up its three giant diesels and head to the open sea.
But while the 6,780 passengers and 2,100 crew on the largest cruise ship in the world wave goodbye to England, many people left behind in Southampton say they will be glad to see it go. They complain that air pollution from such nautical behemoths is getting worse every year as cruising becomes the fastest growing sector of the mass tourism industry and as ships get bigger and bigger.
The Harmony, owned by Royal Caribbean, has two four-storey high 16-cylinder Wärtsilä engines which would, at full power, each burn 1,377 US gallons of fuel an hour, or about 66,000 gallons a day of some of the most polluting diesel fuel in the world.
In port, and close to US and some European coasts, the Harmony must burn low sulphur fuel or use abatement technologies. But, says Colin MacQueen, who lives around 400 yards from the docks and is a member of new environment group Southampton Clean Air, the fumes from cruise liners and bulk cargo ships are "definitely" contributing to Southampton's highly polluted air.
"We can smell, see and taste it. These ships are like blocks of flats. Sometimes there are five or more in the docks at the same time. The wind blows their pollution directly into the city and as far we can tell, there is no monitoring of their pollution. We are pushing for them to use shore power but they have resisted."
"The liners pollute, but the road traffic that they and the cargo ships generate is also huge," he adds.
Royal Caribbean, the US owners of the Harmony of the Seas, said that the latest and most efficient pollution control systems were used and that the ship met all legal requirements.
Industry body Cruise Lines International Association (CLIA) added that companies had "invested significantly over the last decade to develop new technologies to help reduce air emissions".