TRUMP ADMINISTRATION TO CITIES AND STATES:"THE BIGGER THE THING YOU PRIVATIZE, THE MORE MONEY WE'LL GIVE YOU."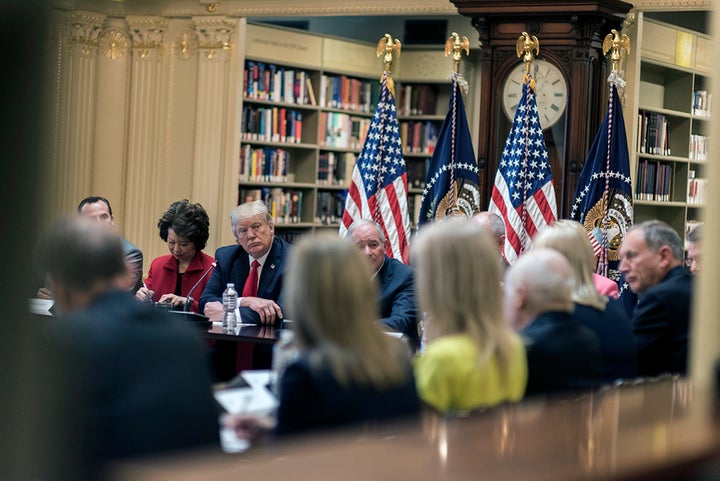 Trump's long-promised $1 trillion investment in America's infrastructure turned out to be stealth privatization after all. His budget proposal, released on Tuesday, would cut existing infrastructure programs, privatize the nation's air traffic control system—a very bad idea—and incentivize public-private partnerships.
But it actually goes further. The administration says it's considering paying state and local governments to sell off public infrastructure.
In a process called "asset recycling," cities, counties, and states would sell or lease assets like roads and water systems to private equity investors in exchange for cash to build new infrastructure. The federal government would pay a bonus to local governments that make the deal.
Gary Cohn, director of Trump's National Economic Council and former president of Goldman Sachs, said, "The bigger the thing you privatize, the more money we'll give you."
Remember the Chicago parking meter deal, where the city lost nearly a billion dollars leasing its downtown meters to Wall Street for 75 years? Asset recycling would produce deals like that but on steroids.
As Slate's Henry Graber writes:
"The megafunds aiming at American infrastructure investment, like a Saudi-backed $40 billion fund run by Blackstone, whose CEO Steve Schwarzman heads Trump's business council, could buy airports or bridges, while local governments use the new cash to pay for the new projects—like pipes for Flint—that the private market can't or won't provide. In the long term, governments would be left with money-losing assets while Wall Street runs more lucrative public assets such as bridges, airports, utilities, and prisons."
Trump's advisors say they got the idea from Australia, which recently adopted a similar program, opening the door for foreign investment. The Australian wrote about Trump's plan, "The move would sharply boost US investment opportunities for Australian industry, especially in the construction sector."
We still don't know what Trump's actual infrastructure plan will look like—Transportation Secretary Elaine Chao says a legislative package will be released later this year. But what we know so far drives home the fundamental truth of privatization. As an executive of a financial firm that invests in public-private partnerships said during the Great Recession, "Desperate government is our best customer." By cutting federal spending on infrastructure—which has already dropped by half over the past three decades—Trump's budget sets the stage for local governments to feel as though they've got nowhere else to turn but the private sector. Meanwhile, Wall Street and multinational investment firms are knocking down the door.
The Trump infrastructure plan looks like it will be a grab bag of giveaways: tax credits for investors and public infrastructure to global corporations, but without the funding America needs to rebuild and control our infrastructure. It's not the answer.
America's roads, water systems, and schools need real investment, not privatization on steroids.