UK withdrawal bill 'rips the heart out of environmental law', say campaigners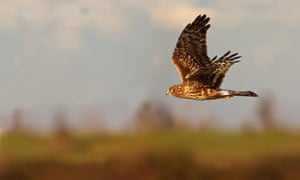 The cornerstones of wildlife and habitat protection have been quietly left out of the withdrawal bill ripping the heart out of environmental law, campaigners sa
A key principle under EU law which provides a robust legal backstop against destruction of the environment – the precautionary principle – has been specifically ruled out of the bill as a means of legal challenge in British courts.
Based on the idea that the environment is unowned, the precautionary principle creates a bottom line forcing those who want to build or develop, for example, to prove in law what they are doing will not damage the environment.
Other key elements of EU legal protection, the polluter pays, and the principle that preventative action should be taken to avert environmental damage, have also been ruled out in the bill as a means to protect the natural world from damage by policymakers, development or industry after Brexit.
The withdrawal bill began to be debated in committee this week by MPs. Ministers are facing intense lobbying by Greener UK, an umbrella group of several leading environmental NGOs and backbench MPs, to ensure that the UK does not throw out these key protections.
Richard Benwell, head of government affairs at WWT, said: "Take out principles like precaution and polluter pays and you rip out the heart of environmental law.
"For decades they have helped guide good decisions – and strike down bad decisions – from planning to food safety to water quality and chemicals licensing.
"The principles must be available not just to interpret old law, but also to inform future decisions. Crucially we must be able to challenge Government in court if environmental principles are ignored. At the moment that's explicity ruled out – a clear departure from the commitment to legal continuity on Brexit day."
The precautionary principle and polluter pays principle are contained in Article 191 (2) of the Lisbon treaty which states policy on the environment should be "based on the precautionary principle and on the principles that preventive action should be taken, that environmental damage should as a priority be rectified at source and that the polluter should pay."
But Schedule 1 of the withdrawal bill rules out these EU principles as a basis for challenge in British law. It states there is no right of action in domestic law on or after exit day based on a failure to comply with any of the general principles of EU law, and that no court or tribunal or other public body may, on or after exit day, quash any conduct or decide it is unlawful because it is incompatible with any of the general principles of EU law.
Tom Burke, chair of the global climate change think tank E3G, said: "It would not be an exaggeration to say that Brexit will have more immediate impact on our ability to manage the growing stresses on the environment than any other single political development of the past 50 years.
"There is no formal place in British policy practise for the writing into legislation of principles such as the polluter pays or the precautionary principle. This weakens the guidance to policy makers and judges as to the tests that should be applied in policy formation or implementation."
Amendments put forward by Caroline Lucas, leader of the Green Party, Kerry McCarthy Labour MP and Mary Creagh the Labour chair of the environmental audit committee, aim to fill the vacuum left by the bill in its current form. Amendment NC28 puts forward a new clause to ensure that public authorities must have regard to environmental principles currently enshrined in EU law.
Lawyers from the Department of Environment Food and Rural Affairs (Defra) when asked by the Guardian about the absence of the precautionary principle as a means of challenge, made no comment on whether the amendments might be accepted as the bill goes through committee.
Benwell said ministers in Defra did appear to be looking for answers. But he said: "To give the public confidence that the spirit of our environmental law will be upheld, we are looking for strong solutions from Government to preserve and improve the application of the principles in UK laws in the early stages of the EU withdrawal bill."