WEST COAST WILDFIRES BY THE NUMBERS: ACTIVE FIRES BURNING IN FIVE STATES
A look at the number of firefighters at work, people in danger and acres torched so far as the Rocky fire and other wildfires rage on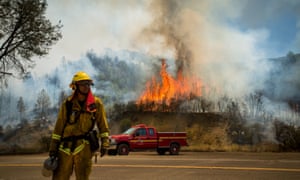 In addition to California, crews are battling active wildfires in Washington, Oregon, Montana and Wyoming.
Fires currently burning in California: 22
As of 12pm PT on Tuesday Cal Fire, the statewide firefighting agency, said there were 22 active fires burning in the state, many of them started by lightning strikes.
Cal Fire said it has responded to more than 4,200 wildfires so far this year, 1,500 more than the average for this time period.
Firefighters at work in California: more than 10,000
Nearly a third of them – 3,000 – are tasked with the Rocky fire, Cal Fire said.
The Guardian's Rory Carroll reported on Tuesday that the firefighters' standard containment methods – dropping fire retardant from the air, ploughing ditches and earthworks to create break lines and setting controlled fires to consume vegetation and other fuel – have proved no match for the extremely dry conditions.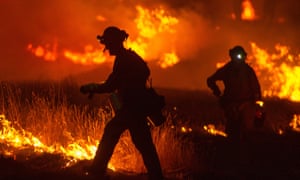 People in danger: 13,000+
The Associated Press reported 13,000 people have been forced or warned to leave the area of the Rocky fire since it began last week.
The Associated Press spoke with Tabetha Atwood, owner of Our Happy Tails Etc, a dog bakery in Clear Lake, who was helping to match dogs with their owners. She also had dog treats on hand for folks who came by with their pets.
"These are our friends, our family and our neighbors," she said.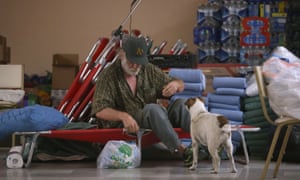 Acres torched: more than 100,000
So far this year, wildfires have burned more than 100,000 acres in California, a Cal Fire spokesman said. CNN put that number as high as 134,000, nearly three times what is to be expected in an average year.
The Rocky fire is currently at more than 60,000, having grown dramatically in size overnight Monday.
Homes in danger: 7000+
Authorities said on Tuesday morning the number of homes threatened by the Rocky fire alone is up to 6,900.
How big is the Rocky fire? As of Tuesday afternoon, 101 miles
The Rocky fire is well short of historic proportions. The Associated Press reminded readers that one of the largest fires in California history was a 2013 blaze that took out 400 square miles in the Sierra Nevadas.
The Associated Press contributed to this report