ARMY VETERANS RETURN TO STANDING ROCK TO FORM A HUMAN SHIELD AGAINST POLICE
A growing group of military veterans are willing to put their bodies between Native American activists and the police trying to remove them
US veterans are returning to Standing Rock and pledging to shield indigenous activists from attacks by a militarized police force, another sign that the fight against the Dakota Access pipeline is far from over.
Army veterans from across the country have arrived in Cannon Ball, North Dakota, or are currently en route after the news that Donald Trump's administration has allowed the oil corporation to finish drilling across the Missouri river.
The growing group of military veterans could make it harder for police and government officials to try to remove hundreds of activists who remain camped near the construction site and, some hope, could limit use of excessive force by law enforcement during demonstrations.
"We are prepared to put our bodies between Native elders and a privatized military force," said Elizabeth Williams, a 34-year-old air force veteran, who arrived at Standing Rock with a group of vets late on Friday. "We've stood in the face of fire before. We feel a responsibility to use the skills we have."
It is unclear how many vets may arrive to Standing Rock; some organizers estimate a few dozen are on their way, while other activists are pledging that hundreds could show up in the coming weeks. An estimated 1,000 veterans traveled to Standing Rock in December just as the Obama administration announced it was denying a key permit for the oil company, a huge victory for the tribe.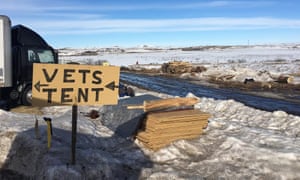 The massive turnout – including a ceremony in which veterans apologized to indigenous people for the long history of US violence against Native Americans – served as a powerful symbol against the $3.7bn pipeline.
But the presence of vets was not without controversy. Some said the groups were disorganized and unprepared to camp in harsh winter conditions, and others lamented that they weren't following the directions of the Native Americans leading the movement.
Vets with post-traumatic stress disorder also suffered in the cold and chaotic environment without proper support, said Matthew Crane, a US navy veteran who is helping coordinate a return group with the organization VeteransRespond. His group has vowed to be self-sufficient and help the activists, who call themselves "water protectors", with a wide range of services, including cleanup efforts, kitchen duties, medical support and, if needed, protection from police.
"This is a humanitarian issue," said Crane, 33. "We're not going to stand by and let anybody get hurt."
On Friday afternoon, as snow rapidly melted during an unusually warm day in Cannon Ball, Jake Pogue helped organize a vets camp area at Sacred Stone, the first camp that emerged last spring in opposition to the pipeline.
"We're not coming as fighters, but as protectors," said the 32-year-old marine corps vet, noting that he was concerned about police escalating tactics. "Our role in that situation would be to simply form a barrier between water protectors and the police force and try to take some of that abuse for them."
Since last fall, police have made roughly 700 arrests, at times deploying water cannons, Mace, rubber bullets, teargas, pepper spray and other less-than-lethal weapons. Private guards for the pipeline have also been accused of violent tactics.
"We have the experience of standing in the face of adverse conditions – militarization, hostility, intimidation," said Julius Page, a 61-year-old veteran staying at the vets camp.
Dan Luker, a 66-year-old veteran who visited Standing Rock in December and returned this month, said that for many who fought in Vietnam or the Middle East it was "healing" to help water protectors.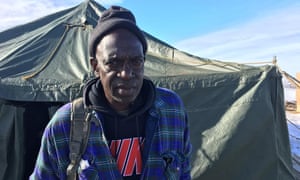 "This is the right war, right side," said Luker, a Vietnam vet from Boston. "Finally, it's the US military coming on to Sioux land to help, for the first time in history, instead of coming on to Sioux land to kill natives."
Luker said he was prepared to be hit by police ammunition if necessary: "I don't want to see a twentysomething, thirtysomething untrained person killed by the United States government."
LaDonna Brave Bull Allard, founder of the Sacred Stone camp and a Standing Rock tribe member, said she welcomed the return of the vets.
"The veterans are going to make sure everything is safe and sound," she said, adding, "The people on the ground have no protection."
At Standing Rock, indigenous activists say the mass arrests and police violence have led many of them to develop PTSD, suffering symptoms that many veterans understand well.
"This historical trauma of indigenous communities in this country is very real. It's tragic," said Crane. "The military has a lot of the same problems."
Aubree Peckham, a member of the Mescalero Apache tribe who has been at Standing Rock for months, was in tears on Friday as she described the way indigenous water protectors have bonded with vets.
"We don't know how to protect ourselves against the tactical weapons they are using," she said. "They are getting us better prepared."
Peckham said the affection was mutual: "We are able to talk about PTSD. And they finally feel like they are understood."