Google gave top executive $90m payoff but kept sexual misconduct claim quiet – report
Reports say Google found credible allegations that Andy Rubin forced employee to perform oral sex – but paid him millions even after he left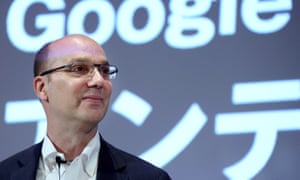 Google gave a $90m severance package to Andy Rubin, the creator of the Android mobile software, but concealed details of a sexual misconduct allegation that triggered his departure, the New York Times has reported.
According to unnamed sources who spoke to the Times, Google investigated and found credible claims from a female employee, who said Rubin forced her to perform oral sex in a hotel room in 2013.
Soon after, Larry Page, Google's former CEO, asked for his resignation. However, the company continued to pay him millions of dollars in installments of $2m a month for four years.
Page praised Rubin when he left the company, saying in a 2014 public statement: "I want to wish Andy all the best with what's next. With Android, he created something truly remarkable – with a billion-plus happy users."
Last November, the Information exposed that Rubin had an "inappropriate relationship with a subordinate", which violated company rules. At the time, a spokesperson for Rubin stated the relationship was consensual and not a misconduct violation because the female employee did not report to him, emphasizing that his decision to leave the company was unrelated.
According to the New York Times report, it was not the first time Rubin had got into trouble. In another instance, current and former Google sources told the Times, Google docked his bonus after security found bondage videos on his work computer.
Rie Rubin, his former wife, who divorced him this year, said in a civil suit that he engaged in "ownership relationships" with several other women while they were married.
In an email he sent to a woman in 2015, that was included in the suit, Rubin wrote: "Being owned is kinda like you are my property, and I can loan you to other people."
Rubin, who joined Google in 2005 after the company acquired Android, was an integral part of growing its success. Often referred to as "the father of Android", the engineer and entrepreneur created the software now used in 80% of the world's smartphones, which helped produce billions in profit. His net worth, according to the Times, is now roughly $350m.
The Times also detailed Google's rules on workplace relationships, and other ways in which it has struggled to enforce them fairly. Several executives had relationships and extramarital affairs with subordinate employees, including David Drummond, Alphabet's chief legal officer.
Drummond and Jennifer Blakely, a senior contract manager, dated for several years before disclosing their relationship to human resources, after having a child together. Blakely was then transferred to another department, before leaving a year later, having been asked to sign paperwork saying she had departed voluntarily. Drummond's career, meanwhile, accelerated.
"For a select few, there are no consequences," Blakely told the New York Times. "Google felt like I was the liability."
The Times report revealed that Google had protected three executives in sexual misconduct claims over the last decade, paying them millions while keeping silent about the allegations. One of the three remained employed by the company.
In a letter to employees sent after the New York Times story was published, the company's CEO, Sundar Pichai, said Google took a "hard line" on inappropriate conduct. Google said it had fired 48 people including 13 senior managers over sexual harassment claims in the past two years.
In response to the story, Eileen Naughton, Google's vice-president for people operations, said in a statement that the company investigates and takes action with every sexual misconduct claim. "In recent years we've taken a particularly hard line on inappropriate conduct by people in positions of authority. We're working hard to keep improving how we handle this type of behavior."