JUSTICE DEPARTMENT TO DEPLOY MEDIATORS TO STANDING ROCK TO 'MAINTAIN THE PEACE'
Department is also offering assistance to law enforcement from division that led reform efforts following protests and unrest in 2014, Loretta Lynch said
 THE GUARDIAN
Attorney general Loretta Lynch has weighed in on the protests against the Dakota Access pipeline, calling on all sides to avoid violence and announcing that the justice department is deploying "conciliators" from its community relations service to North Dakota.
The department is also offering assistance to local law enforcement from the Office of Community Oriented Policing Services (Cops), the division that led the department's police reform efforts following huge protests and unrest in 2014 in response to police killings of unarmed African Americans.
"We recognize the strong feelings that exist about the Dakota Access pipeline – feelings that in many instances arise from the complicated and painful history between the federal government and American Indians," Lynch said. "We will remain committed to working with all stakeholders to enforce the law; to maintain the peace; and to reach a just solution to this challenging situation."
Lynch's statement, which was released on video, came after she spoke on the phone with Morton County's sheriff, Kyle Kirchmeier, and the Standing Rock Sioux tribal chairman, Dave Archambault.
Kirchmeier, who has been an outspoken critic of the protests and went so far as to call some of the protesters "evil", said in a statement that he wanted to see "more actions from the federal government, not more words".
"While I appreciate the attorney general taking the time to reach out to me, neither assistance for law enforcement nor a timeline for resolution was offered."
Archambault was not immediately available for comment. In October, he called on the justice department to investigate police tactics against overwhelmingly peaceful protesters. The ACLU North Dakota and Amnesty International have also called for a formal investigation.
Some of the indigenous activists at Standing Rock, who call themselves "water protectors", expressed skepticism about the federal government's involvement.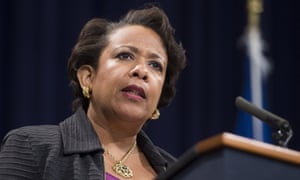 Xhopakelxhit, a member of the Nuu Chah Nulth, Coast Salish, and Cree who has been at Standing Rock since September, was doubtful that "conciliators" could have a positive impact.
"What real conciliation looks like is giving us all our land back," she said. "That's not going to happen."
Instead, she feared, the outreach from the government was more about "saving face with the American public".
"Why are they so late in the game?" she asked. "They could have stepped in months ago. They could have put a moratorium on construction."
Xhopakelxhit's partner, who asked to be identified by the single name of Crow, echoed her misgiving.
"Anytime it comes down to negotiations – negotiations never work in favor of indigenous people," he said.
Lynch's statement comes just three days before the deadline established by the Army Corps of Engineers for thousands of Native American and environmental activists to leave their main encampment, known as Oceti Sakowin.
The camp lies just north of the Standing Rock Sioux reservation, on public land managed by the corps, close to the site where the disputed pipeline is slated to cross under the Missouri river. The tribe fears that the pipeline will jeopardize its water source and destroy sacred sites.
North Dakota's governor, Jack Dalrymple, has also ordered a mandatory evacuation of the area, citing concerns about the weather, but both state and federal officials say that no forced eviction is planned.
Despite the looming deadline, protesters continue to arrive at the snow-covered camp, where tipis, yurts, RVs, and wooden shelters have replaced the sea of camping tents that have housed thousands for months.
"This camp will make it all the way through winter very well," said Jumping Buffalo, a member of the Standing Rock Sioux tribe whose English name is Troy Fairbanks.
Jumping Buffalo was helping to coordinate the delivery of two trucks of firewood to feed the wood stoves that are keeping people warm.
Elsewhere in camp, 1,500lb of propane was delivered by truck, giant snowmen were decorated with anti-pipeline slogans, and men in pickup trucks and on bicycles towed children around on sleds.
Around midday on Friday, Loreal Black Shaw, an Oglala Lakota and Northern Arapaho as well as a US army veteran, spoke at the camp's central sacred fire of the contingent of 2,000 veterans who are travelling to the Standing Rock camps to provide support for the movement this weekend.
"We're here," Black Shaw said to cheers. "Our mission is this: to be peaceful and prayerful. We have no other mission other than that."