'UNUSUALLY LARGE' OIL SLICK OFF CALIFORNIA COAST SPOTTED NEAR SITE OF MAY SPILL
Firefighters responded to reports of smell of oil off Goleta pier
Seepage in Santa Barbara Channel is normal but origin of slick unknown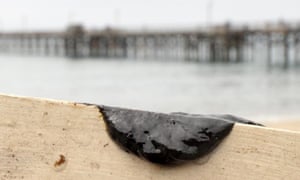 A large oil slick mysteriously appeared on Wednesday off the southern California coast about a dozen miles from where a broken pipeline spilled thousands of gallons of crude into the ocean in May.
The sheen was initially reported as about 50-60ft wide about 1,000 yards off the Santa Barbara County city of Goleta, said coast guard petty officer Andrea Anderson. But county fire captain Dave Zaniboni said it was "very large" and its current size would be determined when a coast guard helicopter arrived to fly over it.
A marine safety team was dispatched to try to determine the source of the oil, including whether it was from well-known natural seepage in the Santa Barbara Channel.
The 19 May pipeline rupture occurred to the west at Refugio state beach. The break spilled more than 100,000 gallons of crude, including 21,000 gallons that flowed into the ocean. An extensive cleanup effort ensued offshore and on land.
Zaniboni said firefighters responded on Wednesday morning to reports of the smell of oil off the Goleta pier, and spotted the slick.
Two kayakers came ashore with oil on their watercraft and legs, he said. The kayakers were otherwise unharmed, he said.
Oil routinely appears in the local coastal waters from natural seeps. Zaniboni said the slick was unusually large but he refrained from calling it an oil spill because the source was undetermined.
"We're not calling it a spill, we're just saying it's unusually large," he said.
The water at Goleta beach was closed but people were allowed to stay at the beach park.