We Need To Talk About Palm Oil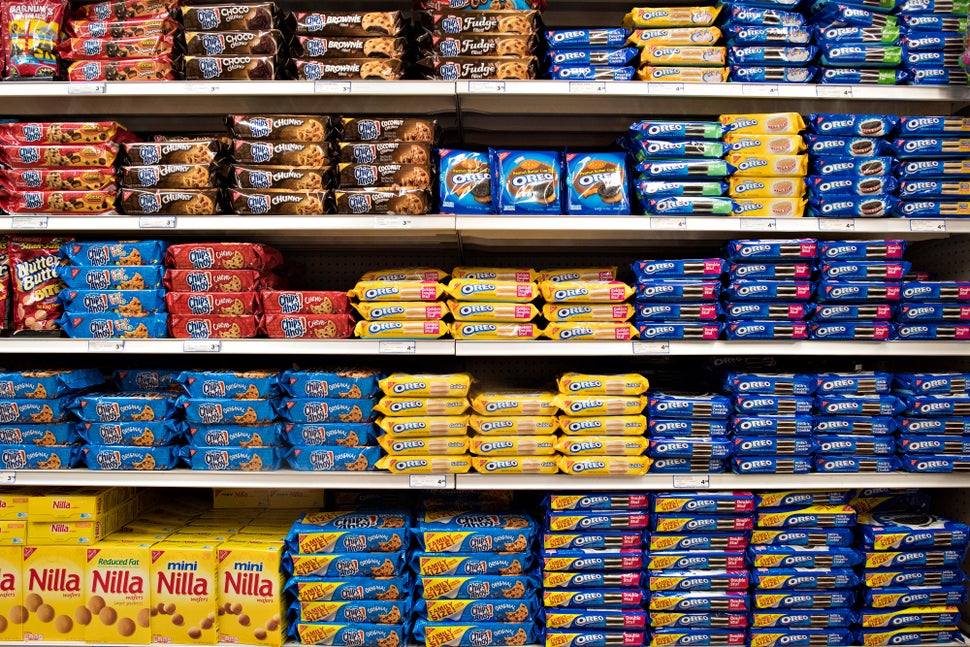 Palm oil is found in many popular snack foods, including Oreo and Chips Ahoy! cookies.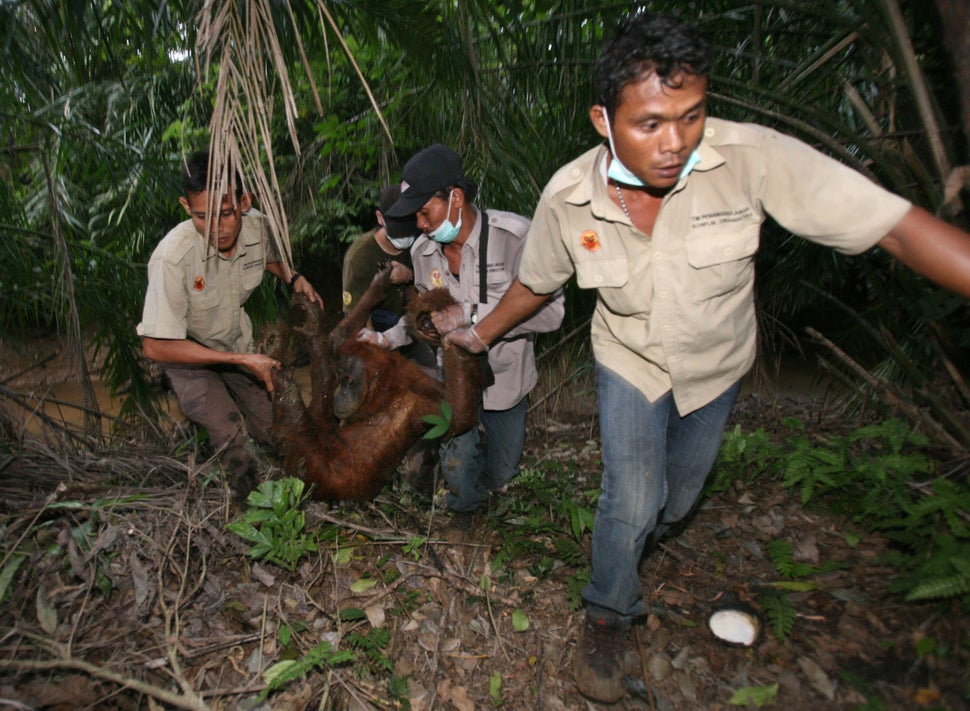 Activists with the Orangutan Information Center carry a tranquilized orangutan from a palm oil plantation in North Sumatra, Indonesia, on July 21, 2013. The adult female orangutan was reportedly trapped for several weeks in the palm oil plantation and was isolated from the rest of the surviving orangutan population in the region.
"Scientists have warned us that we have just 12 years to avert the worst effects of climate change," Lierley said, referring to a grim United Nations report released in October. "The stakes are incredibly high. A lot of people are trying to pass the buck in the palm oil industry, but we need to see really bold action from companies all along the supply chain, as well as government actors and other institutions."
This is particularly pressing given the expected ballooning of demand for palm oil in the coming years. The Center for International Forestry Research estimates that world consumption of palm oil will increase by 62 percent in a "medium growth scenario" and 94 percent in a "high demand scenario." Other countries, particularly in Africa, are expected to see a boom in palm oil production to meet this growing demand.
Johnson, who for years has been investigating corruption in the palm oil industry, warned that the same broken agri-industrial model of palm oil production in Indonesia and Malaysia is already being replicated in parts of Africa.
"The same palm oil companies that have been operating in Indonesia have announced plans in recent years to do the same" in countries like Liberia and Uganda, said Johnson. "And you could just see the disaster slowly unfolding."
Companies like Wilmar and the Malaysian conglomerate Sime Darby have been granted enormous concessions, or cultivation areas, for palm oil in these countries ― and reports have already emerged of deforestation and land-grab issues.
"Many of these countries are fragile, post-war states," said Johnson of the African nations where the palm oil industry has been steadily encroaching. "If these [companies] aren't even following the rules properly in Indonesia," where President Joko Widodo has taken steps to crack down on conflict palm oil,  "what's the chance they'll do things better in these fragile states?"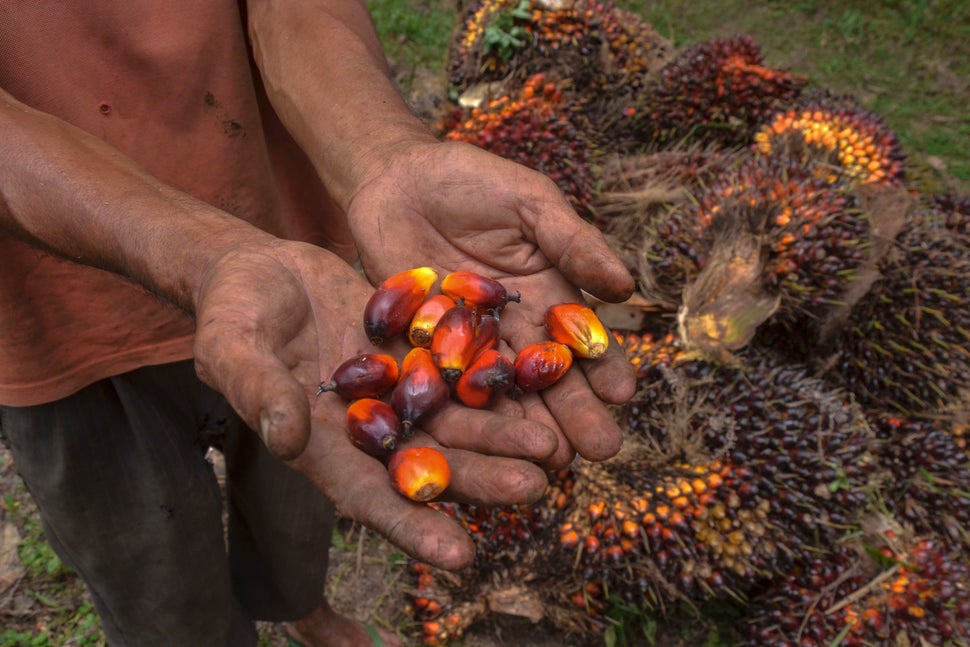 The problems with palm oil may feel complex and entrenched, but activists insist that solutions are within reach.
Though reducing consumption of palm oil could be a positive step, boycotting the commodity entirely doesn't appear to be the answer. Producing alternative vegetable oils like soybean would have similar, or even worse, environmental impacts, Lierley noted.
"It's not palm oil itself that's the problem," she said. "It's the way it's produced."
And that, activists say, is what needs to change.
Consumers should push companies to be more transparent about where their palm oil is coming from, said Mongabay.com's Butler.
"Look at the ingredient lists on the things that you are buying and figure out what products actually contain palm oil," he said. "Then contact the company and ask them what their palm oil policy is. It doesn't actually require that much feedback from consumers to send a strong message to a company."
Companies, in turn, need to be more transparent about their practices, Johnson said.
"If they want to be trusted, they need to put everything on the table, they need to be as transparent as humanly possible and people need to be watching them closely. If not, we're just going to see more 'zero deforestation' companies buying from dodgy suppliers," he said.
Consumers can use their dollars to support companies that have made ― and fulfilled ― sustainability commitments. The "bare minimum," said Butler, is to choose companies and brands that are certified by the RSPO, or the Roundtable on Sustainable Palm Oil.
The RSPO, which is the world's leading certification body for sustainably sourced palm oil, has been widely criticized in the past for not setting high enough standards for its members and for inadequately enforcing its rules. Last month, however, the group significantly strengthened its criteria ― a move lauded by activists.
WWF, RAN and the Union of Concerned Scientists have palm oil scorecards that track how some of the world's biggest companies and brands are faring when it comes to sustainable palm oil.
"Companies often say it's a lack of resources or lack of information that make it difficult for them to fulfill their sustainability commitments. But if a small nonprofit like RAN can identify labor abuses, deforestation and land-grab issues, there's no reason why a huge multinational can't do it too," Lierley said.
"It's not an impossible problem," she continued. "It's a matter of willpower."